Hello and welcome to Fridays From The Frontline, Clear Admit's weekly pursuit of the hottest news in the b-school blogosphere. This week bloggers covered topics including information sessions, job searches and future trips. 
Timbob spent an evening at NYU Stern. MBA The Nonprofit Way described how his opinion on Anderson changed for the better after sitting in on a few classes. Domotron hoped all his round 1 schools would think he was interesting and recounted his HBS visit. Sanket reached out to IE alumni and current students to learn more about the program's offerings. In order to start her Fulbright application, Sarah found herself also determining the b-schools to which she plans to   apply, which included Darden, Tuck and Harvard.

Said '14 Sonam recounted her first week weeks in the program and how it was already impacting her perspective. HBS '15 Keima put together a jig saw puzzle with five others to find out where they would collectively go for their FIELD experience. McCombs '15 Eric attended a pitch party and decided not to look at his grades this quarter in favor of simply enjoying the experience. Fuqua '15 Bering explained why he chose to pursue an MBA.
Second years were a quiet bunch this week, though Tepper '14 Ccatcher received three job offers all from the same company!
And that's the news for this week's edition of Fridays From The Frontline. We hope that as the weeks go by, applicants hear good things from their R1 schools while maintaining their motivations for R2, and that current students continue to share their observations and experiences with us all. Until next week, have a great weekend!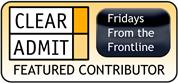 Want to join the Fridays From the Frontline community and see your blog featured regularly in this column? Just follow this link and add the FFF badge to your blog and then  email us at [email protected] with your URL so we can make sure to add you to our weekly roundups.