Fridays from the Frontline
Hello and welcome to Fridays From The Frontline, Clear Admit's weekly post that features the ups and downs of the b-school blogosphere.
After the rush of January deadlines, R2 applicants can do little more than sit back and wait for the outcome of their applications, while current students are using the start of the new semester as an opportunity to evaluate and reflect on the b-school experience.
Blogger MBA My Way shares exciting news about a UCLA admittance package and a Ross interview invite. MBA the Non-Profit Way shared news of a Cornell interview invite.
Gurpreet Singh, INSEAD '14D blogs  about an exciting, whirlwind of a first week. Meanwhile, Raven Honsaker McCombs '15, evaluates returning back to school and a renewed focus on fitness for the new year. On the other hand,  TwoYearsatHBS took some time to reflect on the upheavals in investment banking in the last 10 years, as well as giving some insight into Hell Week before the start of the semester at Harvard.
And that's all the news for this week's edition of Fridays From The Frontline. As those of us in the US hunker down for another arctic blast of winter, we hope that applicants continue to update us with information about decisions and interview invites, and that current students also update their blogs with the latest from their campus and classroom lives.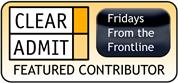 Want to join the Fridays From the Frontline community and see your blog featured regularly in this column? Just follow this link and add the FFF badge to your blog and then  email us at [email protected] with your URL so we can make sure to add you to our weekly roundups.