Hello and welcome to Fridays from the Frontline, Clear Admit's weekly accounting of the adventures of the b-school blogosphere. News continues to trickle in for this year's round of applicants, while also able to take some time to reflect on the application experience thus far, as well as what lies ahead.
Over at BootsToSuits, hammO discusses the dichotomy of, on the one hand, having so much free time now that the application process and decision are over, and on the other, not having much to write about once that onerous process is complete.  However, there is still plenty to do in preparation for matriculating at Johnson.  FromGMATtoMBA has less sanguine reflections, as another ding from Booth came on an ill-timed Valentine's Day.  MBAReapplicant reflects on a less-than-successful R1 process, but takes solace in the fact that moving on to Round 2 gave the opportunity to apply to equally great schools.  R2 has brought some good news already, with interviews at Tepper and Anderson, for which MBAReapplicant gave a nice shoutout to the Clear Admit Interview Reports On the flip side of the application process, MBAGirlJourney is faced with the daunting task of financing her upcoming move to NYC and matriculation at Columbia.  Sarah'sMBAJourney is taking this time to ponder some of the more unusual benefits of obtaining an MBA.
As hammO notes above, current MBA students are busily engaged on campus and aren't able to update their blogs as often as our stalwart applicants. However, Keima at Two Years at HBS has a fascinating post about the business model for Harvard Business School. The analysis may surprise you! 

And that's all the news for this week's edition of Fridays From The Frontline. As February melts into March, we  also hope that applicants continue to update us with information about changes and decisions, and that current students also update their blogs with the latest from their campus and classroom lives.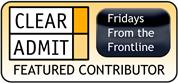 Want to join the Fridays From the Frontline community and see your blog featured regularly in this column? Just follow this link and add the FFF badge to your blog and then  email us at [email protected] with your URL so we can make sure to add you to our weekly roundups.