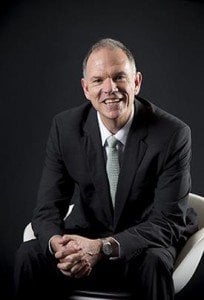 As we reported last week, Geoffrey Garrett has been named to replace outgoing Dean Tom Robertson and will take the helm on July 1st. So what's Clear Admit's take on this new dean? We welcome what we believe to be a strong candidate and wish him well in his new role.
A political economist with a Pacific Rim orientation but clear U.S. interests as well, we think Garrett will make a good fit for Wharton on several levels. He brings an understanding of the intersection between business and politics that will lend itself well to Wharton's focus on globalization and on preparing its graduates to understand how business is done internationally.
His appreciation of collaboration and innovation – consistent with two other main points of focus at Wharton – were also among the things that made him a front runner in the search process, the school noted in the press release announcing his appointment. 
While dean of the Australian School of Business at the University of New South Wales (UNSW), Garrett helped to create a university-wide innovation center bringing together faculty and students from business, design, engineering and science. "His approach to scholarship and discovery fits perfectly with Penn's commitment to integrating knowledge across disciplines," Penn Provost Vincent Price said in a statement. Indeed, Wharton's commitment to fostering collaboration is evident even in its MBA interview process, which now incorporates a group exercise designed to assess how effectively candidates work together.
Garrett also brings a nice combination of academic and practical experience to the role, which should appeal to various constituents at Wharton. In addition to serving as professor of business and dean of UNSW, dean of the University of Sydney Business School and in numerous other academic roles, he was also the founding CEO of the University of Sydney's United States Studies Center and the president of the Pacific Council on International Policy in Los Angeles. 
Finally, he understands that the school is facing pressures from globalization and technology and brings a distinct point of view on how to address them. "Like other sectors, globalization and technological change are poised to transform business education," Garrett said in a statement. "I have no doubt Wharton will be in the vanguard of this transformation in America and around the world."
In our conversations with them in the days immediately following the announcement, officials at Wharton expressed enthusiasm about the choice, and we echo that enthusiasm. We think Geoff Garrett is a good candidate to lead Wharton, and we look forward to seeing how the school evolves under his guidance.