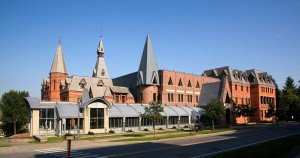 Interested in the one- or two-year MBA program at Cornell's Johnson School of Management in Ithaca? You still have until next month to apply to either program, Admission Director Christine Sneva urged in a recent post to her Admissions Blog.
Johnson will be accepting applications to its two-year program until April 30th and to its one-year program until April 1st, Sneva wrote. "We will make decisions on all new applications on a rolling basis with time to apply for financial aid, secure housing and a student visa if necessary before classes start," she added.
In fact, the school will be hosting four live web events over the next several weeks designed to help prospective applicants learn more about Johnson, the application process and life in Ithaca. The first, on March 18th, will be centered around the one-year Cornell MBA and finding the right job. A second event, on March 25th, will feature Johnson Professor Bob Frank discussing his book, The Economic Naturalist. The last two events, on April 9th and 22nd, will focus on the admissions process and life in Ithaca respectively. All events are free, but advanced registration is required.
Sneva also noted that Johnson encourages prospective applicants to visit if possible, and that class visits can be scheduled through the end of April. If your visit falls on a Thursday, you can also take part in the school's Sage Social, a community social hour held in its atrium.