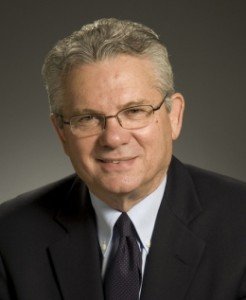 Paul Danos, who has led Dartmouth's Tuck School of Business for the past 19 years, will not seek reappointment for a sixth term and will instead step down in June 2015 when his current term ends, the school announced this week.
Danos, Tuck's ninth dean, has served for longer than any other in the school's history and is one of the longest-serving deans in management education. When he steps down, almost half of Tuck's 10,000-plus living alumni will have graduated under his deanship, the school notes.
Since joining Tuck in 1995, Danos has overseen significant expansion of the school's faculty – from 36 full-time faculty to 51 – as well as an increase in the both the size and quality of the student body. He also led the development of a residential campus regarded as one of the finest in the world, the launch of nine centers and initiatives and innovative changes to the MBA curriculum to increase student access to faculty and keep pace with changes in global business.
Under Danos' leadership, Tuck has ranked consistently among the top MBA programs both in the United States and the world, with student qualifications, employment levels and compensation rates for its graduates among the highest in the world. The school is also known for its alumni giving rate, which is nearly three times the average participation of other business schools, the school notes.
Danos shared his plans to step down in an announcement to students, staff and faculty on the first day of classes for the spring semester. "Your support and encouragement over the last two decades has been vital to Tuck's continued success and has meant the world to me," he said. "Tuck is a great school with a virtuous circle of caring people who will ensure that its future will be as bright as its past."
Dartmouth President Phil Hanlon expressed his appreciation for Danos' outstanding services, stating, " His commitment to the quality of the MBA program and to preparing students for a lifetime of responsible leadership has earned Tuck a unique place among the world's top graduate schools of business.
Hanlon, together with incoming Provost Carolyn Dever, will form a search committee to identify a successor to Danos. Tuck Board of Overseers Chair Christopher J. Williams said the school plans to announce a new dean in early 2015.
Learn more about the planned departure of Tuck Dean Paul Danos.