Hello and welcome to Fridays From the Frontline, Clear Admit's weekly summation of the soliloquies of the b-school blogosphere. This week, our stalwart scribes continue to look ahead to matriculating in 2016, while current students focus on metamorphosis, whether it be into spring, or into the post-MBA world.
MBAGirlJourney has a very useful and exhaustive list of Top Twenty Tips for New MBA Students from a former UCLA Anderson student.  Domontron has a great summation of his own, of top MBA schools he applied to and why, and reasons why he didn't apply to ALL the top MBA programs in the States or UK. Overall, Tuck was definitely the right choice for him!
In keeping with this week's theme of informative lists, Stephanie Pow WG'15 has a post on the Wharton student diaries addressing the Top Five Myths of the Wharton Leadership Venture Debunked. Trey House, INSEAD Class of 2014D has a guest post on the changes he's gone through in the past three months.  Over on the McCombs student blog, Chirali '14 has an ode to a metamorphosis of the seasons in Texas.
And that's all the news for this week's edition of Fridays From the Frontline. Spring has finally come to the East Coast of the United States and we hope to enjoy this pleasant weather. We  also hope that applicants continue to update us with information about statuses and future plans, and that current students also update their blogs with the latest from their campus and classroom lives.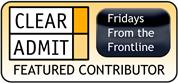 Want to join the Fridays From the Frontline community and see your blog featured regularly in this column? Just follow this link and add the FFF badge to your blog and then  email us at [email protected] with your URL so we can make sure to add you to our weekly roundups.