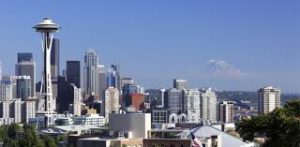 After returning from a recent MIT Sloan Tech Trek to Seattle, a first-year MBA student shared highlights in a recent article on GeekWire. Jarek Langer (MBA '15), vice president of treks for the Technology Club at Sloan, detailed his recent trek, which included visits to Amazon, Microsoft and Groupon. Though all three companies had already given formal presentations on MIT's campus, visits to their campuses provided valuable insights into company culture and more, Langer writes.
At Microsoft, trek participants got a tour of the campus as well as a chance to convene with MIT Sloan alumni now working there. "We'd heard about its giant campus, but it was incredible to experience the scale of it in person," Langer writes. He noted that conversations with alumni gave him a sense of the importance of collaboration at Microsoft, as well as a high degree of ownership over work, with little micromanagement.
Next was a visit to Groupon, where trek participants got to learn about a shift in the company's business model toward a greater focus on local and mobile. Particularly interested in the intersection between tech and retail, Langer noted that what he learned at Groupon makes him plan to keep the company in his sights.
The trek's final company visit was to Amazon, where a panel filled with more Sloan alumni helped describe what it's like to work there, as well as what Seattle living is all about. "One thing that stood out for me was how employees don't use PowerPoint very much," writes Langer. "Instead, they use thoroughly written white papers that explore issues in depth." This observation was in keeping with a company known for its analytic depth and attention to detail, he added.
Rounding out the trek was a visit to venture capital firm Madrona Venture Group, with a panel filled by senior people from several of its startups, all interested in hiring interns. "It was clear from our discussion with these startups that analytics is playing a significantly greater role in business models," Langer writes. "There are a lot of opportunities to apply analytics in various settings and industries, which is great news for students from MIT Sloan where big data is an area of great interest and strong expertise."