Best of Blogging Awards 2013-2014 Timeline Announced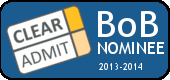 Another application cycle is rapidly drawing to a close, and summer is ahead of us. A good deal of clarity and news has been delivered to this year's MBA applicant pool: interview invitations, admissions decisions, and, of course, the announcement of our annual Best of Blogging Awards (also known as "the BoBs")! For those unfamiliar with the awards, each year we make an effort to identify exceptional blogs maintained by MBA applicants and students. We do this for two reasons: to recognize the commitment and quality of the best applicant and student bloggers' writing, and to identify valuable sources of information for the next round of applicants.
Here's the timeline for this year's awards, which will cover the 2013-2014 admissions/academic cycle:

Nominees Announced – Friday, May 16th
We'll begin by considering all featured bloggers from Fridays From The Frontline (bloggers are encouraged to email [email protected] about adding a link if their sites are not currently included). Keeping in mind the relevance and frequency of posts, as well as the overall quality of their contributions to the MBA blogosphere, we'll pare the list of nominees down to approximately 10 nominees. Once we've determined the blogs to be considered, we'll be sending BoB ballots out to each of the nominated bloggers.
Ballots Due – Wednesday, May 28th
Votes from the nominated bloggers, Clear Admit staff and our Fridays From the Frontlines readership will be due on Wednesday, May 28th.   In addition to an overall ranking, we'll ask voters to share their thoughts on the funniest blog and best single post, and to point us to the blogs that they feel feature the best advice in categories such as GMAT preparation, school selection, application essays, admissions and recruiting interviews, as well as the best representation of academics and student life in business school.
Winners Announced – Friday, May 3oth
Once the votes are in, we'll publish all the ranked blogs, as well as announce the top three winners. Clear Admit will be presenting prizes to the select few for their efforts and contribution to the community. The first place winner will receive a $300 Amazon.com gift certificate,  and the second and third place bloggers will receive a $100 and $50 Amazon gift certificate, respectively.
That's all for now – check back on Friday, May 16th for an announcement about this year's BoB nominees! In the mean time, happy blogging…