UPenn's Wharton School Awards $30K to Slidejoy for 2014 Wharton Business Plan Competition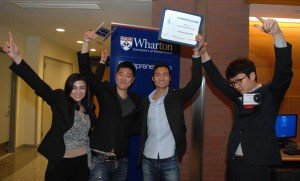 How would you like to view beautifully designed ads every time you unlock your phone? What if you got paid to do it? Slidejoy, an intelligent Android app designed by a team of Wharton students, is built on precisely that model—and it took top honors in the 2014 Wharton Business Plan Competition last week, the school announced.
The Slidejoy team won the $30,000 Perlman Grand Prize at Wharton's annual Venture Finals on May 1st, where total cash prizes and in-kind services topped $125,000, the school reports.
Slidejoy learns the preferences of its users over time based off of previous behaviors, which enables it to curate a more profitable and relevant user experience, explained team members Sanghoon Kwak, G'14/WG'14; Jaeho Chung, alumnus; and Robert Seo, WG'12. Slidejoy users are paid between $5 and $15 per month for using the app. In the three months since it launched, Slidejoy has had more than 20,000 app downloads and more than 26 million ad impressions delivered. Initial advertisers and merchants include Groupon, Best Buy, Adidas, J. Crew and Macy's.
Wharton's Venture Finals are the culminating event of the year-long Business Plan Competition, which this year drew a record-setting 181 venture concept submissions. Almost 500 individual participants from across the University's nine schools participated, and more than 300 venture capitalists, business leaders, faculty members and students turned out.
In addition to top prizes awarded by the Venture Final judges, the competition also featured the Wharton Social Impact Prize, a new addition this year, as well as an audience vote best elevator pitch. The inaugural $10,000 Social Impact Prize went to Dana Cita, an educational lending venture designed to empower Indonesian youth by providing loans and networking opportunities to aspiring students. The People's Choice Award, with a $3,000 prize, went to PhaseOptics.
Learn more about the winners of Wharton's 2014 Business Plan Competition.