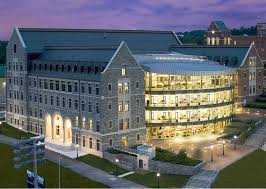 The Fall 2015 MBA application for Georgetown University's McDonough School of Business will feature only one required essay, Clear Admit learned today as part of an interview for our Admissions Director Q&A Series.
Though the new application has not yet gone live – it will be available to applicants early next month – McDonough Associate Dean of MBA Admissions Shari Hubert shared that her team has decided to reduce the number of required essays to just one. The question will be as follows: Why you? (Hint: We are looking for an answer that cannot be found from research on our website.) Hubert called the question "purposely open ended" and said she hopes it will give applicants the flexibility to express what they want the Admissions Committee to know about them – not what they think the Admissions Committee wants to hear.
Her team decided to revisit the questions used in past years' applications because it found that applicants' responses weren't revealing anything new about themselves and/or were simply a regurgitation of information found on the school's website, Hubert says.
Applicants will have 750 words in which to answer the new essay question. The application will still feature one additional optional essay question.
Hubert's complete interview with Clear Admit will be published in this space in the coming weeks, so stay tuned.