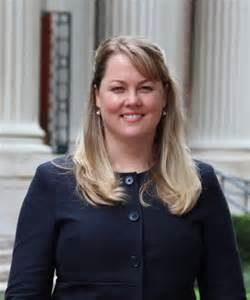 Amanda Carlson was named assistant dean of admissions at Columbia Business School (CBS) in September 2012, and we recently had the opportunity to learn from her about some of the things that sets the school apart.
A member of the admissions team since 2002, Carlson knows CBS admissions inside and out, and as assistant dean she oversees both the MBA and Executive MBA programs at the school.
The expertise Carlson has developed in her decade-plus working in admissions at CBS is complemented by her prior experience working in campus recruiting for McKinsey & Company, as well as her service on the board of the Forte Foundation and as a member of the Graduate Management Admissions Council's (GMAC) annual conference advisory committee.
She also holds a master's degree in organizational psychology from Columbia's Teachers College and is a graduate of the EMBA-Global Asia Program, a joint program offered by CBS in collaboration with the University of Hong Kong and London Business School.
In the interview that follows, Carlson sings the praises of the comprehensive leadership program that is part of CBS's core curriculum, as well as the school's growing focus on entrepreneurship and its innovative Startup Lab incubator space. She also highlights the school's diverse faculty, which is made up of both celebrated research-focused professors and adjunct practitioners who bring valuable real-world insights to the classroom.
Clear Admit:What's the single most exciting development, change or event happening at Columbia Business School this coming year?
Amanda Carlson: We are excited for prospective students to learn more about Columbia's Lead program. The Lead course focuses on developing students' abilities to bring out the best in their teams and bring out the best in the individuals who comprise those teams.
It is designed to make participants more aware of their own values, beliefs, decision-making tendencies and behaviors — a crucial first step in becoming a leader. This course focuses on enhancing those skill sets, while both encouraging students to reflect on their past professional experiences and keeping in mind their career aspirations.
The Lead program is designed to prepare students as they grow and develop as leaders across industries and functions and is taught by means of a combination of experiential learning, role-playing, individual assessment and case studies. Faculty leaders Modupe Akinola, Adam Galinsky, Michael Morris and Kathy Phillips comprise the core teaching team that oversees the class. Lead is part of the innovative and robust core curriculum that Columbia Business School provides.
CA:What is the one area of your program that you wish applicants knew more about?
AC: I am hopeful that candidates will explore the richness of diversity and the myriad backgrounds of professors we have at Columbia Business School.
Columbia practitioners may work at a startup, at a pharmaceutical company, at a real estate development firm, at boutique investment banks and private equity firms or in asset management.
The adjunct faculty are practitioners by trade, and the real-world experiences they share in class are invaluable to our students. They come to campus to teach the students exactly what is going on in real time, as things are happening.
I strongly believe that having both types of faculty, research and practitioner, is a tremendous asset academically as well as professionally for students who are looking for related post-MBA roles.
I would also like to stress how robust the offerings are for those interested in entrepreneurship. Entrepreneurship is an exciting space right now, and we have so many unique things to share about the initiatives taking place at Columbia.
For example, we had nearly two dozen of our brightest entrepreneurs attend a private casting call on campus for a television program called "Shark Tank." Producers for the show agreed to host that casting call at Columbia because of the school's progressing reputation around entrepreneurship.
Columbia is also home to an innovation called the Columbia Startup Lab. The Lab is an incubator space for young Columbia University alumni. The Lab offers a collaborative space in which our alumni entrepreneurs solve problems by involving others. The Lab helps our entrepreneurs raise the bar by actively seeking out cross-collaboration. This approach plays a large role in their success. I think this is reflective and endemic of our culture at CBS.
CA:Walk us through the life of an application in your office from an operational standpoint. What happens between the time an applicant clicks "submit" and the time the committee offers a final decision (e.g. how many "reads" does it get, how long is each "read," who reads it, does the committee convene to discuss it as a group, etc.).
AC: Once an applicant hits "submit," the application is put into an electronic queue. Applications are assigned for review to an individual member of the admissions committee. That reader will either put the application forward for an interview or request that the applicant be denied admission.
If the recommendation is to deny the applicant, then the applicant is put forward to a second member of the admissions committee. That reader will either put the application forward for an interview or request that the applicant be denied.
Here, if the second reviewer recommends a denial, then the application is reviewed for a third time, and then the decision is upheld or overturned. If it is upheld, the process ends. If it is overturned, the applicant will be interviewed.
Once the recommendation is to interview the applicant, the applicant will be provided a list of six or so alumni in his/her local area. The applicant then reaches out to a potential interviewer to arrange the interview.
Interviews are "blind," meaning that the only thing the interviewer knows about the applicant is what the applicant tells the interviewer. We do not share any information with alumni about the candidate.
Once the interview is completed, the larger admissions committee will review the application. The whole process should take approximately eight weeks. Candidates will hear from us whether they will be interviewed or denied within six weeks. The interview component will clearly add more time to the decision timeline.
CA:How does your team approach the essay portion of the application specifically? What are you looking for as you read the essays? Are there common mistakes that applicants should try to avoid? One key thing they should keep in mind as they sit down to write them?
AC: We try to glean details from the essays, details about a candidate's character and interests that a resume will not reveal. We know there is more texture, more depth to candidates than just what is printed on a resume.
There is nothing specific for which we are looking in terms of backgrounds or experiences. We are looking to craft a class filled with ambitious, smart, talented and collaborative students. How this takes shape in terms of the backgrounds of an individual candidate really depends on what his/her background looks like and how the candidate tells us about his/her interests.
There is no "right" or "wrong" answer. We are simply looking for the candidates to tell us what they feel is important for us to know and what they will bring to the Columbia community. One key thing to keep in mind is to please answer our questions.