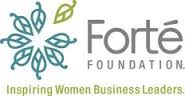 As part of the 2014 Forté Forum, which launches next week, women considering business school will have an opportunity to hear from professional women across a range of industries and career stages about how the MBA degree has helped them succeed.
The Forté Foundation, a nonprofit consortium of leading companies and business schools devoted to increasing opportunities for women in business, will host the first of 13 events across 12 cities next week in Boston, on Monday, August 18th. Additional forum events will be held later in the week in Washington, DC, Atlanta and Miami. The remaining 2014 Forum events are scheduled in late August, September and October in Seattle, San Francisco, Los Angeles, Houston, Chicago, New York, Toronto and London.
Each event will include panel discussions featuring Forum alumnae sharing their experiences. In addition to receiving advice and hearing stories from these MBA women, attendees at the Forté Forum events will get to meet with other women who are considering an MBA program as well as admissions representatives from leading business schools in Europe and North America. They will also be able to explore opportunities to study abroad, learn about how to finance the MBA and more.
Forté Forum events are open to all women interested in learning more about business school and the value of an MBA degree, including college grads, current college students and women who hold other master's or professional degrees.
Participants who register for any of the Forté Forum events will receive a free professional membership in the Forté Foundation, which provides access to pre-MBA webinars as well as invitations to events to help advance your career.
Learn more about or register for the 2014 Forté Forum events.