Fridays From the Frontlines: Test Obsessed
Welcome to this week's Fridays From the Frontline, Clear Admit's weekly summation of the business school blogosphere.  We check in with applicants who are in the final, feverish stages of GMAT preparation, as well as with current students who let us in on their comparatively less stressful post-GMAT lives.
In the applicant corner, Naijambagal tells the shocking story of how an eye problem sent her to the hospital and made her miss the GMAT!  She also explains how she studied for the test for about an hour everyday while in traffic on the way to work.  Meanwhile, Grantmeadmission brings insights from brain science to bear on GMAT prep strategies.  As he explains, the process of forming a memory comes in three stages–encoding, reinforcement, and retrieval–and there are things we can do to facilitate each stage.  Meditation and eating foods like parsley, berries and dark chocolate improve encoding, whereas caffeine, sleep, and taking breaks boost the process of reinforcement.
Efessays offers us a virtual lesson on data sufficiency along with several real-life GMAT questions.  After 51 days off the grid, Roadtomymba gives us an update on his life, which includes getting a promotion, creating a logo for his blog and closing in on "G-Day," the day he takes the GMAT.  Finally, Texaswannabecali describes the emotional toll of encountering several different problems in a row on the GMAT.
Turning to student blogs, after two years at Anderson, Kyle Forrest shares his advice for prospective students, which includes taking time off before starting, tapping into the alumni network, and keeping in touch with loved ones.  Meanwhile, Thebumpyroadtoanmba explains his decision to apply to Stanford, even though he thinks it's a long shot.  Mike Leve searches for the ideal apartment for him and his boyfriend before starting at ULCA Anderson.  Also, MBAthenonprofitway explains his decision to enter the corporate world, noting that his non-profit background is not held in high regard there.  Lastly, Oxonian2014mba reflects on the classes he took this term at Oxford, which included "Entrepreneurial Finance," "Digital Marketing" and "Corporate Turnarounds."
That's everything for this week.  Good luck with your applications and be sure to tune in next week for more news from the business school blogosphere!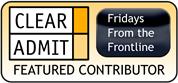 Want to join the Fridays From the Frontline community and see your blog featured regularly in this column? Just follow this link and add the FFF badge to your blog. Then  email us at [email protected] with your URL so we can add you to our weekly roundups.