Student-Led Program at UPenn's Wharton School Focuses on Introspection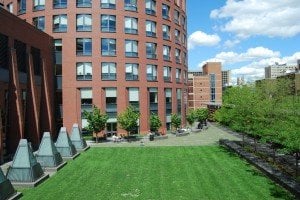 Ten students at the University of Pennsylvania's Wharton School have helped create a program designed to help encourage MBAs to make time amid their studies to examine what they value in their personal and professional lives.
Called "Purpose, Passion and Principles" – or the P3 program for short – the student-led initiative debuted last fall after roughly a year of development. Participants take part in nine small-group discussions held once a week, in which one student serves as a facilitator. The student facilitator directs the conversation and helps create a safe environment in which students explore topics ranging from reflections on meaningful past life experiences to what success means to them to visions of their ideal future lives.
The students who helped lead development of the P3 program based the first year's discussions on a book entitled Springboard: Launching Your Personal Search for Success, written by Wharton professor G. Richard Shell. They also drew from other well-known leadership books, including Total Leadership, by Wharton professor Stew Friedman, and Bill George's True North.
"For me, P3 was an opportunity to slow down and block out the craziness," wrote Yang (Sydney) Liu, one of the students who helped create the program, in a recent article in the Wharton Magazine. "More importantly, for the first time in my life, my peers challenged me to verbalize what I truly value in my professional and personal lives, and reconcile my decisions and values," Liu continued. "This critical examination forced me to be honest and authentic with myself—a vulnerable position that I, like many others, shy away from."
According to Liu, news of the program traveled quickly among students at the school, and by last spring more than 160 had expressed interest in taking part. With only a limited number of facilitators, the program could accommodate fewer than half of those, but a new set of facilitators for next school year will double the program's capacity.
"The P3 buzz is spreading outside of Wharton as well," Liu added. P3 student leaders piloted the program last semester with the Penn Law School and the Wharton undergraduate program as well, and informal alumni groups have formed in New York City. "I am excited by the program's energy and potential impact it could have on Wharton's culture," Lui said.
Liu cautions that the program is not designed to serve up an answer to students who are struggling to figure out what their life's work should be. Rather, it helps students think about their life and future careers in the context of their values and fears, to identify priorities and to learn how to make decisions that track with their personal values.
Learn more about Wharton's new student-led P3 program.