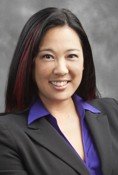 As we reported here on the Clear Admit blog earlier this week, Stephanie Fujii just stepped into a new position at UC Berkeley's Haas School of Business: assistant dean of the full-time MBA program and admissions. She was appointed to this newly created role last month by Haas Dean Rich Lyons, and she now oversees both the full-time MBA admissions and the full-time MBA program offices.
A 2004 Haas alumna, Fujii knows the school inside and out. She has been working in admissions there for almost a decade, advancing through the ranks to become executive director in 2010. Between obtaining her MBA at Haas and returning to work there, she served as executive director of a San Francisco assisted living community for the elderly.
The recent creation of an assistant dean's position for Fujii recognizes the many strides she has made during her time at the school. She is credited with integrating Haas's "Defining Principles" into the admissions process, moving the evaluation system online, consolidating application rounds from four to three and diversifying the applicant pool, including drawing significantly more applications from international candidates, women, underrepresented U.S. minorities and military candidates.
We are grateful to Fujii for taking time again to participate in our Admissions Direction Q&A Series – especially as her responsibilities continue to increase. In the interview that follows, she talks some about the growing diversity within the Haas class, the importance of the school's Defining Principles, the ways in which innovation is a focus throughout the MBA program and curriculum and more.
Clear Admit: What's the single most exciting development, change or event happening at Haas in the year ahead?
Stephanie Fujii: We're excited to have one of our most diverse classes entering Haas this year, including 43 percent international students and 43 percent women. We continually hear from our students and alumni that working with people who think differently, and who have experienced the world differently, was critical to their development as leaders.

We recognize how diversity of perspectives within the program enriches the learning for our students, and our goal every year is to strengthen the diversity of the applicant pool across many dimensions to achieve this. We're thrilled to see our efforts reflected in this class.
For gender in particular, Haas leaders, including Dean Rich Lyons, admissions and program staff, faculty and students have made it a priority to improve gender balance at the school. Our dean was among a group of 14 top business school deans who met at the White House earlier this year to begin laying out best practices for cultivating women leaders and improving workforce conditions for women and families.
Students and alumni have also played a significant role in efforts to increase the ranks of women at Haas over the years. This year, a group of male and female students came together of their own accord to work on gender balance and to highlight the strong and inclusive culture at Haas.
Julie Barmeyer, MBA '15 and president of the student group Women in Leadership (WIL), said our culture at Berkeley-Haas was a big selling point for her, even though women were only about 30 percent of her class. "The four Defining Principles resonated with my personal mantras. When I made my final decision between Haas and a peer, it boiled down to coming to a school where I felt like I could be 100 percent myself and thrive," she said. "My female classmates are incredible—they are the most talented, brilliant and accomplished group of women I have ever been surrounded by."
WIL organized several events for newly admitted women, including a talk by Haas Assistant Professor Kellie McElhaney on her research and teaching about women and business and discussions with male and female students about Haas culture.
See more about Haas's increasingly diverse MBA class.
CA: What is the one area of your program that you wish applicants knew more about?
SF: We want incoming students to understand just how real and palpable the focus on innovation is throughout the Berkeley MBA curriculum and experience. The process starts with the careful selection of our students, who have demonstrated leadership and exemplify the school's defining principles: Question the Status Quo, Confidence Without Attitude, Students Always and Beyond Yourself.
At Berkeley-Haas, we develop leaders who are ready to meet the challenges we face today and identify the challenges we'll face tomorrow, to define what's next. Regardless of the industry or function our students choose, they will have the foundation and skills to bring new ways of thinking and framing problems to all levels of the organizations they join and lead.
We have a unique required course, "Problem Finding, Problem Solving," which teaches our students different modes of thinking/approaches (critical thinking, design thinking, systems thinking and creative problem solving) to tackle big problems. In this course, students synthesize data and develop tangible solutions through a process of framing and re-framing the challenge and testing their various ideas. We've heard from students that they have immediately used what they learned in this course in their internships, case competitions, jobs.
We also require that each student take an Applied Innovation course – Berkeley MBA students choose from 13 different experiential learning options that enable them to hone their leadership skills in a real-life setting. These hands-on experiences allow our students to take what they've learned in the classroom and apply these frameworks and capabilities in the real world.
CA: Walk us through the life of an application in your office from an operational standpoint. What happens between the time an applicant clicks "submit" and the time the committee offers a final decision (e.g. how many "reads" does it get, how long is each "read," who reads it, does the committee convene to discuss it as a group, etc.).
SF: After applicants submit their applications, we first check to make sure the application is complete (application, resume, letters of recommendation and copies of all official transcripts; official documents are required when the applicant is invited to interview).
Once the application is complete, it goes out for a first read. Every application is reviewed by at least two members of our team, with applications assigned to readers based on country of education who are familiar with the institutions, grading systems, etc. After reviewing the application, we decide whether to invite to interview, deny or waitlist. Applications are reviewed by members of the admissions team; we don't have students or faculty read applications.
Applicants who are invited to interview will interview with either one of our current students on campus or an alum outside of the Bay Area. We then review all applicants who have completed interviews, discuss them in committee and make a final decision of whether to admit, deny or waitlist.
Many applicants think that the interview is the deciding factor – this is pretty rare. The interview is one piece of the application that is considered alongside academic performance, professional accomplishments and personal qualities.
Everyone on the admissions committee has a different perspective so it makes for some heated discussions! In the end, though, we are all trying to bring in a diverse, accomplished class of students who are a strong cultural fit with Berkeley-Haas and who will challenge themselves and each other.
Applicants who are sent to the waitlist, either directly or after the interview, will have a chance to submit more materials if necessary. We review the waitlist at certain points throughout the cycle and look at how applicants have strengthened their candidacy and how they compare to the pool – the rest of the class.
Applicants should review our Waitlist FAQs and participate in one our admissions chats with waitlisted candidates to learn more about our process – we try to be as transparent about our process as possible since we know that it can cause a lot of anxiety.
CA: How does your team approach the essay portion of the application specifically? What are you looking for as you read the essays? Are there common mistakes that applicants should try to avoid? One key thing they should keep in mind as they sit down to write them?
SF: The essays are an applicant's chance to bring his/her story to life – to tell us who they are beyond their resume and transcript. We are also looking for authenticity. Every school talks about fit, and applicants should also be thinking about fit very seriously. What type of culture will they thrive in? What type of environment will allow them to develop into the leader they want to be?
We have a distinctive culture and community at Berkeley-Haas. As I mentioned before, we are looking for students who value our Defining Principles and who embody them; we are looking for students who will thrive in the culture and community at Haas. Our advice to applicants: Be honest and share what you really care about, not what you think we want you to care about. When you write something that you think the admissions committee wants to read it's not necessarily coming from the heart so it really falls flat.
Ask somebody who knows you well and who you trust to be brutally honest with you to read through your essays and tell you if it captures who you are, your personality, what you're passionate about, what you want to achieve. We are also looking for a clear and consistent story. We want people who understand and can tell us, "This is what I have accomplished so far, this is what I hope to accomplish after business school and this is why business school will help me accomplish these goals."
Be thoughtful. We read thousands of essays and it is always clear when someone hasn't taken the time to reflect. Our mission is to develop leaders who redefine how we do business. If this excites you, connect with our community and learn what this means. Is this the right program, environment, culture for you?
I encourage people to dream big and to share their dreams with us. I continue to read applications because I personally love reading about these dreams….and then seeing our students accomplish them!