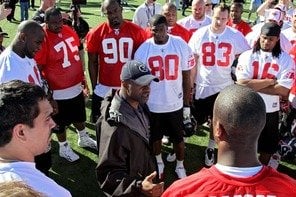 The Indiana University (IU) Kelley School of Business has partnered with the National Football League (NFL) Players Association to offer graduate-level educational programs – including an MBA degree – tailored to the needs of current and former NFL players, the school announced earlier this week.
"For more than a quarter century, the Kelley School has provided customized programs that have met the needs of many students within a variety of corporate and educational settings," Kelley School Dean Idalene Kesner said in a statement.
This newest program – which will be offered in a blended format including in-person and online components – is designed to guide football players from career development through professional and certificate programs, culminating ultimately in an MBA.
"Our leadership and innovation in delivering online programs provides the flexibility to design a winning experience for these accomplished athletes, many of whom will one day transition to new careers away from the football field," Kesner added.
As part of the new offering, current and former football players will be able to take advantage of Kelley's Me Inc. program. Complete with career coaching and career services, this program helps participants set and understand individual career goals and follow a structured path toward attaining them.
Players will first be required to complete a noncredit professional program, followed by a four-course certificate program. Credits from the certificate programs will be transferable toward a 30-credit Master of Science or a 45-credit MBA.
Participants in the new NFLPA-Kelley MBA can also take part in experiential learning through the Kelley Capstone Experience, in which teams of students tackle real-world strategic projects. They can also participate in the school's global immersion courses, addressing problems in emerging markets including India, Myanmar, Botswana, Ghana and South Africa.