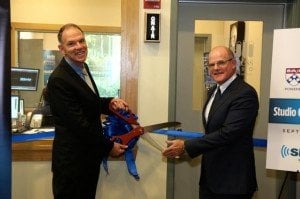 The Wharton School at the University of Pennsylvania today hosted a ribbon-cutting ceremony to mark the opening of a new SiriusXM satellite radio broadcast studio. The new studio will broadcast Business Radio Powered by the Wharton School, which offers direct, exclusive access to some of the world's top business leaders and educators.
Newly appointed Wharton Dean Geoffrey Garrett was joined by SiriusXM President and Chief Content Officer Scott Greenstein for today's ribbon-cutting ceremony. Wharton first partnered with SiriusXM last fall to launch the full-time radio channel focused on business and management.
The one-of-a-kind channel features around-the-clock programming on a wide range of business topics, as well as a live, call-in format giving millions of listeners access to Wharton faculty, alumni and expert guests.
Business Radio will broadcast from the brand new studio on Wharton's Philadelphia campus, as well as from Wharton San Francisco via satellite. You can find it on Sirius XM channel 111, through the Sirius XM Internet Radio App on smartphones and other devices and online at siriusxm.com.
Its programming – targeting business owners, entrepreneurs, executives and would-be entrepreneurs – features Wharton professors and alumni as regular weekly hosts, as well as an array of special guests, including executives, entrepreneurs, innovators and other experts.
Business topics covered on the business satellite radio channel include everything from how to build a business from the ground up to leadership and ethics to social media marketing. Wharton Finance Professor Jeremy Siegel co-hosts a weekly analysis of the stock market, Vice Dean of Innovation Karl Ulrich hosts a program about new ventures called Launchpad, and Christian Terwiesch, professor of operations and information management, invites listeners to share customer service failures and explore on air what went wrong.
Learn more about Business Radio Powered by the Wharton School.