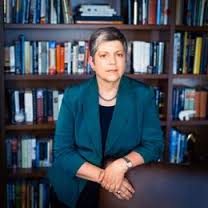 Two big names will visit the Haas School of Business at the University of California at Berkeley next week to address MBA students as part of the school's Dean's Speaker Series. Janet Napolitano, president of the University of California system and the former United States Secretary of Homeland Security, will share leadership lessons on November 4th, and Biz Stone, co-founder and CEO of Jelly Industries and co-founder of Twitter, will talk about his experiences on November 6th.
Speaking on Election Day, Napolitano is scheduled to answer questions about the political climate in both California and the nation as a whole. She will also address the challenge of getting more young people involved in politics and public service, as well as her own leadership approach, her experiences as a female in leadership and more.
Before stepping into her current role leading the UC system and its ten campuses, Napolitano served as Secretary of Homeland Security under President Obama, governor of Arizona and Arizona attorney general.
Stone will deliver the final address as part of this fall's Speaker Series, speaking at 12:30 p.m. on Thursday, November 6th. The Dean's Speaker Series is made possible in part by the Mary Josephine Hicks Distinguished Speaker Series Fund. All events are free and open to the Haas community.
Other speakers featured this fall have included Jamba Juice CEO and President James White, former New York Stock Exchange CEO Duncan Niederauer and alice + olivia President Deanna Berkeley, among others.
View videos of many of the past Dean's Speaker Series presentations at Haas.