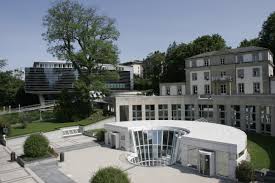 Switzerland's IMD and the Tuck School of Business at Dartmouth earlier this month announced a new collaboration designed to help global organizations develop leadership skills among their management. The Transition to Business Leadership (TBL) executive education program, launched earlier this year by IMD, will be offered in two modules alternating between the two schools, beginning in spring 2015.
The program is designed to help prepare experienced functional managers at leading global organizations develop necessary skills and expertise to shift into business leadership positions. Participating executives will examine the challenges and pitfalls that go hand in hand with transitioning into a leadership role.
As part of the new collaboration between Tuck and IMD, participants in the TBL program will learn from top thought leaders from each school who will share both in-class teaching and real-world expertise. The program consists of two two-week modules – one in March at IMD in Lausanne and a second in April at Tuck in Hanover, New Hampshire. There will also be distance learning components before, between and following the in-person modules. Participants will earn a dual certificate of completion from both schools.
"TBL is a terrific way to complement experience and abilities and to ensure that executives are successful at making what, for most people, is one of the most difficult transitions in their entire career," Stewart Black, IMD's program co-director, said in a statement.
Black leads the program together with IMD professor and program co-director Michael Watkins. Sydney Finkelstein, Tuck associate dean for executive education, serves as the faculty director for the Tuck module and collaborates closely with Black and Watkins.
"There's a global shortage of capable leaders and for global organizations who want that competitive edge, it's a race for talent," Sydney Finkelstein, Tuck associate dean for executive education, said in a statement. "Our collaboration with IMD will help close the gap," he added.
Learn more about the IMD-Tuck Transition to Business Leadership offering.