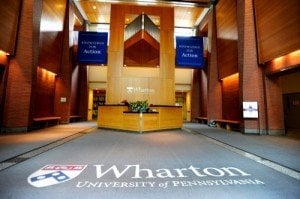 A whopping 98.2 percent of Wharton MBA Class of 2014 students seeking employment received full-time offers, according to a career report released today by the University of Pennsylvania's Wharton School. That's an improvement over last year's 97.8 percent, which was itself the best number the school had seen in more than 10 years.
The $125,000 median base salary matched last year's high point, and 65 percent of students this year reported receiving an additional sign-on bonus (median $25,000). The graduating class saw an increase in the number of students accepting employment in technology and healthcare. The financial services and consulting sectors drew slightly fewer students this year than last, although they remained the industries of choice for the majority of Wharton graduates, attracting 35.5 and 25.9 percent of students respectively.
Of the Class of 2014, 55 students reported that they intended to start their own businesses. This was a slight decrease from last year's 59, but it still represents significant entrepreneurial growth in recent years. By comparison, only 13 Wharton MBA students in the Class of 2007 reported plans to start their own businesses immediately upon graduation.
View the complete Wharton MBA Class of 2014 Career Report.