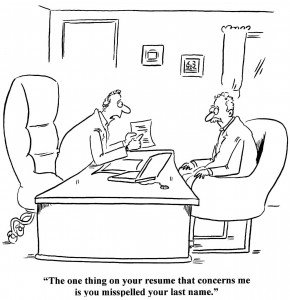 As candidates tackle interviews and preparation for Round 2 applications, we would like to revisit an important aspect of the application: the resume. Given the many roles that the resume plays in the business school application process, drafting a resume (or CV) is an excellent starting point for someone embarking on the next round of MBA applications. Here are several reasons why now is the time to focus on polishing your resume:
1) Crafting a resume can serve as the creative starting point for candidates trying to develop their positioning strategy and career goals for the MBA admissions process. Distilling all relevant educational, professional and extracurricular experiences into a coherent one-page document can be an eye-opening exercise. This step is helpful to many applicants because it can reveal overarching themes in their work and activities or bring to light key selling points in their profile.
2) Nearly every top school requires a resume. This is usually requested as part of the written application. Even if the school does not request a stand-alone resume, they will usually solicit similar information within their application forms (employment history, educational background, etc). In addition, candidates are often required to bring a resume to their admissions interviews as a starting point for conversation.

3) Since MBA admissions officers often ask themselves whether a candidate seems likely to gain employment upon completion of the MBA program, the resume is a barometer of an applicant's potential to market his or her skills and experiences. The adcom is curious to see how a candidate presents his or her experiences prior to earning the MBA degree. Providing the committee with a polished, coherent resume is a great way to demonstrate one's potential appeal to campus recruiters.

4) The often daunting process of MBA admissions has to start somewhere! Many applicants spend far too much time thinking about essay questions or worrying about recommendations before they've actually defined their overall admissions strategy. This is a classic case of putting the cart before the horse.
In contrast, the resume is a defined step that can help a candidate make true progress in the MBA application process. And remember, once you've drafted your resume, it serves as a handy summary of your experiences for when you and your recommenders are drafting and writing those essays or recommendation letters.
For valuable guidance in crafting your resume, check out the Clear Admit Resume Guide.  This guide will teach you to organize information strategically to play to your strengths, eliminate jargon to write for the admissions committee, and situate your responsibilities in the big picture for maximum impact.  This 17-page document, which includes illustrative examples, step by step instructions, an active verb list and two full resume templates, is available for purchase, preview and download from the Clear Admit shop.