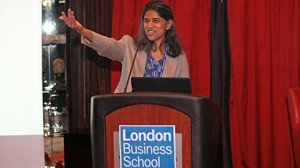 Building on the success of a program launched 18 months ago on its London campus, London Business School (LBS) has expanded a mentoring program to benefit aspiring entrepreneurs to its Dubai Center, the school announced late last month.
Called the "Entrepreneurship Mentor in Residence" program, the program will provide entrepreneurial students and alumni access to year-round mentorship from four successful business executives in the region. The Dubai program's first mentor panel will include former alumni Genny Ghanimeh, Mohamed Nassar, Tommy Wakefield Smith and Aman Merchant. Students will now have direct access to these mentors for one-on-one consultations up to twice a month.
"There really is no substitute for sitting across a desk from someone who has the experience and insights aspiring entrepreneurs need especially in those first few, daunting months," Jane Khedair, head of entrepreneurship for LBS Career Services, said in a statement. "Premised on the success we have had in London, we are thrilled to launch the Entrepreneurship Mentor in Residence program here in Dubai with four prolific entrepreneurs each with their own areas of specialization," she added. Previously, students in Dubai had remote access to London-based mentors.
Kamalini Ramdas, LBS professor of management science and operations and Deloitte Chair in Innovation and Entrepreneurship, launched the new Dubai mentoring program at an event in the Dubai International Financial Centre (DIFC) last month. LBS's Dubai Center, where it teaches its Executive MBA program for experienced professionals with an average of 10 years' work experience, is based in the DIFC.
A recent LBS graduate, addressing students at the event launching the new program, extolled the virtues of Dubai as a site of entrepreneurship. "Dubai represents a fantastic place to launch your business – it is one of the few places in the Middle East where you can truly succeed by your own merit," said Mohamed Nasser, MBA '12. "In Dubai we are so used to importing ideas or products from the West or the East, I think now is the time to start making them our own."
Students in attendance also heard from keynote speaker Saygin Yalcin, founder of sellanycar.com, before convening with their new mentors-in-residence.
Learn more about LBS's Entrepreneurship Mentor in Residence program.