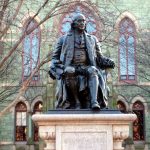 The following is a set of Wharton MBA admissions interview questions provided by a recent applicant:
I arrived there an hour earlier and I met two interviewees. After ~30min the other two also arrived. So we went in and got started.

The team composition was :2 consultants, one ex-consultant and current health care, one private equity, one investment management. I guess our team was strong: 2 of them were going to be interviewed at HBS in the weekend.

The team discussion was observed by an Adcom. We were asked to bring a piece of resume with us. Not sure whether it is blind or not.

Overall it was a pretty good team discussion. 3 in the team brought up similar ideas, so we did not really spend time arguing which idea to choose. The final suggestion was a combination of those 3 ideas. Nothing unexpected, everyone was super friendly and cooperative, which means it was pretty hard for any one of us to stand out.

In the end we had a one-to-one interview. It was pretty short. Questions:

What's your career goal?
Why did you choose your major?
Some follow-up chats on how great a school Wharton is, how great a city Philly is…

I thought the Adcom likes me, because she spent a lot of time introducing about the great resources Wharton has. And we had a really nice conversation. But in the end I got a ding. I guess it's just because the Adcom is very used to doing these interviews and is just super friendly to everyone.
For more Wharton MBA admissions interview questions, check out our Wharton Interview Archive!