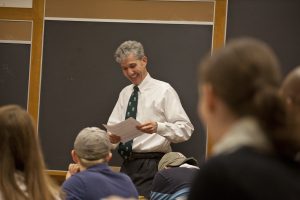 In case you missed it, Dartmouth's Tuck School of Business last week named an insider to become its 10th dean, replacing outgoing Dean Paul Danos, who steps down in June. Tuck Professor of Management and Associate Dean for Faculty Matthew Slaughter will step into the role vacated by Danos, who announced in March that he would not seek reappointment at the end of his fifth term as the school's dean.
An expert in globalization and a scholar of international economics,Slaughter joined the Tuck faculty in 2002 and has held several key leadership roles since then. In addition to his current role as associate dean for faculty, Slaughter was also the founding faculty director of Tuck's Center for Global Business and Government and previouly served as associate dean for the MBA program. He also served on the Council of Economic Advisers in the Executive Office of the President of the United States from 2005 to 2007.
Slaughter is also much beloved as a teacher at Tuck, where his courses are among the most popular, the school reports. He has won several teaching awards, including the Class of 2011 Teaching Excellence Award, which recognizes faculty for their outstanding contributions to the educational experience at Tuck. He will assume his new role as dean of school on July 1, 2015.
Tuck searched far and wide for its next dean before ultimately choosing a long-time member of its own community. A 10-member search committee chaired by Tuck Senior Associate Dean and Professor Robert Hansen led a comprehensive, eight-month search, one that involved broad outreach to students, faculty, staff and alumni, as well as partnership with executive-placement firm Spencer Stuart. Slaughter was one of several finalists chosen from a pool of dynamic candidates from around the world, the school reports.
"The opportunity to lead a school like Tuck is a rare one, and this was reflected in the strength of our pool and the exceptional candidates we put forward for consideration," Hansen said in a statement. "With his commitment to excellence, strong appreciation for the qualities that set Tuck apart, and care he has for our community, I am confident Tuck has found the right person to lead us in its exciting next chapter," he continued.