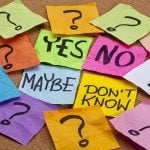 Welcome back to Fridays from the Frontline, the column in which we summarize the past week's business school blogosphere happenings. This week, the MBA applicant bloggers who received acceptances are trying to decide where to go to school, while the MBA current student and program bloggers are setting their new year's resolutions.
MBA applicant (and admit!) bloggers have faced several different decisions in the last week. GrantMeAdmission decided to apply for the Riordan MBA Fellows Program, while MBA on my Mind resolved to apply to top MBA programs during the 2015 admissions cycle. Under Prescription is trying to choose between MIT Sloan and Dartmouth. PullingthatMBAtrigger has finished her round 2 applications.
As always, the bloggers also shared some helpful advice for applicants. NaijaMBAGal provided thoughts for Round 2 applicants. Scott Duncan shared the things he did differently to get into MIT Sloan as a business school reapplicant. EF Essays' Jonathan Taves shared a discussion of the startup culture in Austin, Texas and a profile of UT McCombs.
Current MBA students and programs shared their decisions and advice this week. The Tuck admissions office shared their new year's resolutions, while Tuck MBA student Isaac Ipson '15 wrote about being in Hanover for the holidays. Allie Wallace shared her McCombs new year's resolutions. Finally, MBA Reapplicant shared an article on Anderson they found valuable.
That's all for this week! Tune in next week for more news from the MBA blogosphere.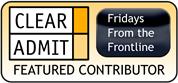 Want to join the Fridays From the Frontline community and see your blog featured regularly in this column? Just follow this link and add the FFF badge to your blog. Then  email us at [email protected] with your URL so we can add you to our weekly roundups.