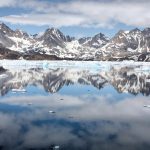 Welcome back to Fridays from the Frontline, our weekly summation of happenings in the business school blogosphere.  This week, applicants and current students took time to reflect on the application process and events and programs in their lives. 
A good number of applicants received admissions decisions in Round 1, and a lot of them have been reflecting on their experiences in the past few weeks. In the aftermath of a recent corporate restructuring announcement at his company, Johnathan Taves has been thinking about corporate culture. Scott Duncan shared the essay that got him accepted at a top-10 business school. In a post aptly titled "Crickets, Crickets Everywhere", PullingthatMBAtrigger tries not to think too hard about the fact that she hasn't heard anything since submitting her applications in round 2.
Current MBA students reflected on choosing an MBA program and on student life this week. Joia Lanier discusses how the Fuqua Minority Workshop helped her choose the school. Britney Sussman discusses how Dean Olian makes UCLA Anderson an outstanding place for women interested in business. Shaw Li, a Cornell Johnson Tech MBA student, discusses how you can tell if business school is right for you.
That's all for this week! Tune in next week for more news from the MBA blogosphere.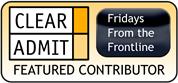 Want to join the Fridays From the Frontline community and see your blog featured regularly in this column? Just follow this link and add the FFF badge to your blog. Then  email us at [email protected] with your URL so we can add you to our weekly roundups.