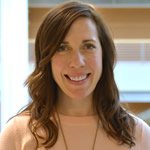 Last month, the University of Chicago Booth School of Business welcomed a new associate director of admissions. Megan Stiphany now leads MBA recruitment and evaluation. She also will oversee Booth's many on-campus events, including the Campus Visit Program, Booth Live, First Day and the Summer Business Scholars Program.
Stiphany comes to Booth from the University of Notre Dame, where she served for five years as the director of student services for graduate business programs. In this role, she was responsible for Notre Dame's full-time MBA program, as well as its Master of Science in Accountancy and Master of Science in Management.
The Admissions office at Chicago Booth is still led by Associate Dean of Student Recruitment and Admissions Kurt Ahlm, who has been at the school since 2002. Stiphany adds to a deep bench of associate and senior associate admissions directors who help keep the admissions process running smoothly.
Read an interview with Kurt Ahlm on Chicago Booth's admissions process.
Read more about new Associate Director of Admissions Megan Stiphany.