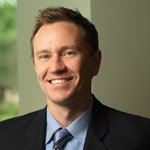 Kurt Ahlm is a 12-year veteran of the University of Chicago Booth School of Business admissions office, and he has been at the helm for the past four years. During that time, he has helped welcome a new dean, Dean Sunil Kumar, and seen the school continue its international expansion.
Ahlm started his career in undergraduate admissions at Northwestern University and then spent time working as a corporate recruiter before coming to Chicago Booth. "I really liked higher education but I also liked the more professional type of atmosphere that the corporate world offered," he says, adding that MBA admissions provides a great mix of both. Chicago Booth benefits, in turn, from his strong background in both admissions and recruiting.
In the interview that follows, Ahlm shares his excitement about Chicago Booth's expansion in Asia, including the recent opening of a new campus in Hong Kong and a new center in New Delhi. He points to some of the things that he thinks prospective applicants should be sure to recognize about Chicago Booth – including its strength in areas beyond finance and the remarkable flexibility students have to customize their own MBA program.
Ahlm also provides an in-depth look at the admissions process, including some shifts in terms of the roles current students play and the reasoning behind those changes. And finally, he provides valuable insight into how best to use the essay portion of the application to help tell the complete story of who you are as an applicant and how you will fit into the Chicago Booth culture. So read on!
Clear Admit: What's the single most exciting development, change or event happening at Chicago Booth in the year ahead?
Kurt Ahlm: From an institutional perspective, the biggest thing happening right now is our continued global expansion. Working with the University of Chicago more broadly, we just celebrated the official opening of our Hong Kong campus. We have shifted our presence from Singapore to Hong Kong in order to be more centrally located in Asia, in part to be closer to things happening in China. A couple of years ago we also opened a center in Beijing, so our presence in Asia is becoming even stronger.
A few months ago – also in conjunction with the University of Chicago – we opened a new center in New Delhi as well. The university as a whole has been strengthening its presence throughout Asia. As a result, from a brand awareness perspective, the school is gaining a lot more attention. Having a greater physical presence there and numerous initiatives on the ground in India and China has allowed us to expand the presence of Chicago Booth throughout the region.
The expectation is that this expanded presence will increase our learning about those regions of the world and allow the faculty – both at Booth and the University of Chicago as a whole – more opportunities to do research and engage with government. It not only extends our presence in a physical sense but also allows us greater access to learning and research and more opportunities to engage academically in two rapidly growing markets that are having a dramatic impact in the world.
We expect it to allow us to expand student learning both on the Chicago Booth campus and beyond. Over time, I do think that the school will look into expanding student opportunities to study abroad in Asia. At present, though, there are no plans beyond the current programs we have with 33 sister institutions in countries around the world (including in China, Hong Kong and India).
Right now, the new Hong Kong campus is dedicated to our Asia executive program. This program is operating in a temporary facility, but as we build out our Hong Kong campus there will be discussion about how that campus will be further utilized.
CA: What is the one area of your program that you wish applicants knew more about?

KA: The good news here is that this question is becoming more difficult to answer, which in my mind means we are doing a much better job of communicating the distinctive advantages of the Booth MBA. Not only does the quality of the applicant pool continue to get stronger, but the diversity of applicants' backgrounds and their desired career paths continues to broaden.
For years, Booth battled the public perception that we are "only a finance school," but our reputation in areas like entrepreneurship and marketing in particular has really begun to catch up. In recent years Booth has developed a very strong reputation among applicants and recruiters for our ability to prepare students to work, lead and innovate in those areas.
Another aspect of our program that I wish students knew more about is the comprehensive, flexible nature of the Chicago Booth MBA. Booth continues to be the most flexible MBA program. For applicants who truly want an opportunity to customize their MBA experience on every imaginable level, Booth is the only option.
I would like to stress one more thing, which is that Booth's whole model – its whole academic approach – is really based on teaching people how to think, not what to think. We focus on this style of education – giving people very strong core analytical tools to be very proficient problem solvers – which resonates across all different industries, jobs and platforms.
CA: Walk us through the life of an application in your office from an operational standpoint. What happens between the time an applicant clicks "submit" and the time the committee offers a final decision (e.g. how many "reads" does it get, how long is each "read," who reads it, does the committee convene to discuss it as a group, etc.).
KA: This year, we have made some further changes to the way we review applications, specifically with regard to the role current students play. In the past, the review process has started with our Admission Fellows (AFs), who are second-year students selected and trained to help us review and evaluate applications.
Our AFs – there are 67 of them this year – are all still trained to read and interview. So they understand all the fundamental things they have in the past about how admissions works. But beginning this year, while AFs will continue to interview candidates, the reading of applications will shift entirely to staff.
Multiple staff members will review each file independently and recommend whether or not to interview the applicant. Based on those assessments and recommendations, an applicant will either be invited to interview or the application will then come to me for a third review.
Those students invited to interview can then set up their interview either on campus with an AF or in their part of the world with an alum. In either case, it will be a blind interview – meaning the interviewer has not read that candidate's application, but has only seen his or her resume. That allows for great conversation to flow organically as the candidate and interviewer get to know one another.
After the interview, the interviewer submits a report and the candidate's file goes through another phase of review, with another director who has not seen the file before. This director will then make a recommendation to admit, deny or send the file to be reviewed by committee. Those applications sent to admit or deny get a final review from me, while the others are reviewed by me and the rest of the admissions committee.
Our decision to shift the reading part of the application process fully to members of the admissions staff is designed to enable our AFs to become more involved in functions related to outreach and interacting with prospective students. Basically, we have tried to rethink the way we utilize our students in terms of how to best convey the fit, feel and experience of Chicago Booth to candidates. Rather than taking up our AFs time with reading applications, we think we are putting them in roles that better leverage the value they bring to the process.
Candidates will continue to get multiple reviews by staff, and interviews will be invite only. The real difference is that we will be utilizing our students and alums more on the external side of the admissions process. At Chicago Booth, fit really matters. But it as much about us assessing the fit with the candidate as it is with the candidate assessing his or her fit with us. We want people to get to know Booth, and the best way to do that is by engaging more effectively and often with students and alumni.
CA: How does your team approach the essay portion of the application specifically? What are you looking for as you read the essays? Are there common mistakes that applicants should try to avoid? One key thing they should keep in mind as they sit down to write them?
KA: It's important to remember that applications are reviewed holistically; each part of the application is crucial to overall decision making. When reviewing essays, we try to determine how each essay fits within the application as a whole and how it adds value to the overall "story" the applicant is trying to tell. The most common mistake applicants make is to look at an application as a series of tick marks. They don't really take the time to step back and ask the deeper question: "What is it that I am fundamentally trying to communicate and how have I utilized all the components of the application to convey my story or message in the most holistic way?"
The applicants who are most successful are those who think about the question in a strategic way. They see all aspects of the application as chapters in a story, each element revealing a different facet of who they are. They understand that a resume tells us one thing about them that is different from what we learn from the transcript or a letter of recommendation. Combined, all of these things create a strong outline of who somebody is. The essays then become a vehicle to add greater depth and texture to that outline.
With this in mind we value essays that successfully create that depth and texture, not ones that simply answer the question in a vacuum. The trick to a successful essay is to demonstrate strategic thought, not simply answer the question. Ask yourself two fundamental questions as you write your essays: 1) If the school is interested in fit, like we are at Chicago Booth, what aspect of that fit are we trying to get from the essay question? 2) Does the answer I provided add value to my overall story or does it simply restate elements of the application I have already revealed through other areas?
We read as much for strategic thought and approach as we do for quality of writing. We recommend getting a trusted friend or family member to read through the essays to determine if you've achieved both of those goals.
We have always been in the process of trying to put the best tools we can into the application to assess fit with Booth and to understand how well a student knows our institution and how our values relate to what they want to get out of an MBA program. In the past, we have included two behaviorally based essay questions, but we have found that students tend to be more structured and programed in their answers to these essay questions – with authenticity getting lost in the process.
What we consistently got a very authentic response from was the presentation essay. So this year we have put a lot more emphasis on giving people the opportunity to use that space more effectively. To this end, we have eliminated the guidelines for the presentation component. Now, you can do as many or as few slides as you want. We have left it open ended in the hopes of getting a more open-ended response to the broader question. We want to see if you understand Booth and can make the connection between you as an individual, what you are trying to get from an MBA and what Booth can provide.
Our approach is very much about getting people to think holistically about the person they are trying to portray in the application to us in terms of fit with Booth. It is less about sheer creativity or mind-blowing graphics.
CA: Is there anything else you'd like to add?
KA: I would just like to stress again how much fit really matters to us at Booth. We want to see people apply here who really have some deeper connection to what the school is all about. This is part of why we are focused on giving greater access points for people to understand who we are.
When people are thinking through "Why do I want to go to Booth? How does this fit into my priorities?" we hope they will take the time to utilize the access points we are providing to get to know us better. This is really important for success in an application.
We are distinctive enough in the marketplace that we are not going to be the right place for everyone. At the end of the day, we are really trying to give people more and more opportunities to engage with us in a meaningful way so they can determine whether Chicago Booth is right for them and vice versa.