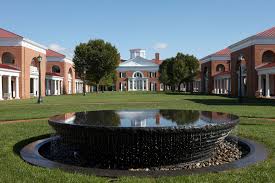 A senior partner who leads learning and leadership development for consulting firm McKinsey & Company will serve as the next dean of the University of Virginia's Darden School of Business, the school announced last week. Scott C. Beardsley will assume the role as the business school's ninth dean beginning August 1st and will also hold the Charles C. Abbott Professorship in Business Administration, as is tradition for the dean.
Beardsley has advised some of the world's leading companies in his 26 years with McKinsey. From 2011 to 2014, he was an elected member of the firm's global board of directors, and he has been based for most of his career in McKinsey's Brussels, Belgium office.
Beardsley will succeed outgoing Dean Robert F. Bruner, who announced last year that he plans to return to the faculty at the end of this year, after a two-term, 10-year role as Darden's dean.
"The Darden School of Business is moving from strength to strength," UVA President Teresa A. Sullivan said of the transition. "We are very fortunate that Scott will build upon the strong legacy of Bob Bruner, who, along with his team, achieved recognition for Darden as the world's best graduate business education experience."
Beardsley, who holds a Bachelor of Science in electrical engineering magna cum laude from Tufts University and an MBA from the Massachusetts Institute of Technology's Sloan School of Management, was chosen as part of a competitive, global search for Bruner's replacement. He is also a candidate at the University of Pennsylvania for an executive doctorate in higher education management, expected in May.
Beardsley rose through the ranks at McKinsey faster than most, joining in 1989, being elected partner in 1995 and senior partner less than five years later. In his current role, he leads talent development for the firm's more than 12,000 professionals, and before that he led the strategy practice. He is an expert in global strategy and regulation and has served leading clients in the telecom, technology, public, nonprofit and professional services arenas in every corner of the globe.
Darden will welcome Beardsley and his family at a special event as part of its traditional First Coffee on January 20th.