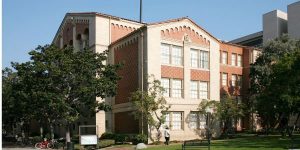 A New York‒based investment management firm has donated $3 million to establish a new student investment fund and educational travel scholarship at the USC Marshall School of Business, the school reported recently. The gift, from Van Eck Global, is designed to help encourage Marshall students to pursue careers in the investment community, says the firm's director and president, Jan van Eck.
Marshall's Center for Investment Studies (CIS) will administer the new fund and scholarship.  The fund, which will be named the Van Eck Global Student Allocation Fund, will be seeded with $2 million of the gift. Unlike many other student investment program that focus on security selection, the Van Eck fund will give Marshall students an opportunity to explore asset allocation methods. Van Eck Global is a leading manager of Exchange Traded Funds (ETFs), a growing market that offers investors a wide range of equity and fixed income alternatives.
The remaining $1 million will establish the Van Eck Global Scholarship Program, which will fund travel to New York and elsewhere for student investors to present their fund portfolio results.
"With the Van Eck Global Scholars program, the company hopes to incentivize high-achieving students to pursue their dreams on a larger stage and consider launching their careers in New York City, which is the hub of the investment management community," Cynthia van Eck ('86), Jan van Eck's wife, said in a statement.
Marshall Dean James Ellis noted that the gift will help to expand the already strong ties between the school's alumni and New York investors.  "With their generous and visionary gift, the Van Eck organization is helping to grow USC Marshall's reputation within the investment management community," he said.
Learn more about Van Eck Global's $3 million gift to the USC Marshall School of Business.