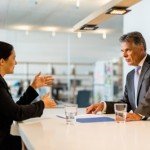 As many of our readers know, a small number of leading MBA programs offer admissions feedback sessions to applicants who did not make the admissions cut in a given season.  Though we've touched upon this subject before, we'd like to use today's blog entry to underline the importance of these feedback sessions for those of you who are considering reapplication.
While not all schools offer feedback, a handful of schools issue an open invitation to all unsuccessful applicants.  Additionally, some programs occasionally offer feedback "by invitation" to top candidates for whom they just didn't have room that year.  In all cases, if you are given the opportunity to get feedback, you should absolutely take advantage of it.  There are several reasons for this:
1) Signal commitment to improvement
Signing up for a feedback session demonstrates that you are motivated to learn more about your application's weaknesses and are seeking to improve going forward (with the intention of reapplication).  Most schools make note of these sessions and keep these notes in your file in the event that you do reapply.
2) Get the inside line
A feedback session gives you a chance to learn something about your candidacy from the source.  Feedback sessions can draw your attention to a perceived weakness you were unaware of or confirm your own thoughts with regards to areas for improvement.
3) Advertise your interest
In addition to demonstrating your passion to improve and your intent to learn more about your candidacy, signing up for a session suggests a dedication to the MBA program in question.  Since not all reapplicants bother to get feedback, the fact that you take this aspect of the process seriously can work in your favor.
4) Make a connection
In many cases, a feedback session can be the beginning of a relationship that is forged with a member of the adcom.  If the person gives you feedback, you should email them a "thank you" letter and take advantage of the opportunity to develop an advocate for your candidacy on the committee.
Stay tuned to this blog for some tips on proper feedback session etiquette in the near future.  In the meantime, be sure to sign up for feedback sessions if your target school offers them.  If your target school does not offer this kind of service, you may want to take advantage of Clear Admit's feedback service, which includes a strategic review of your prior application(s) and a written report highlighting your strengths and weaknesses as well as specific guidance for reapplication.
Contact Clear Admit if you are interested in learning more about this service.