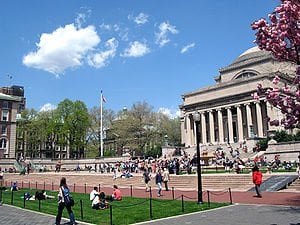 While Columbia Business School (CBS) admissions is still busy reviewing applications for students hoping to secure a spot for fall 2015, it is also preparing for applicants to the January Accelerated (J-Term) program, which provides an innovative opportunity for candidates whose career goals don't require a summer internship.
Columbia's J-Term condenses the entire academic program of the two-year MBA into 16 months. Beginning in January, candidates study straight through the summer, foregoing the summer internship that is part of the traditional two-year MBA. For those who can achieve their career goals without a summer internship—entrepreneurs or those who plan to return to a family business, for example—the J-Term's condensed schedule presents a significantly lower opportunity cost than the two-year MBA.
But even those who are looking to make a career change can take advantage of the J-Term, CBS points out. "J-Termers have full access to our career management center and many take advantage of our New York location to pursue internships during the school year, allowing access for those considering a career switch," wrote Senior Associate Director of Admissions Michael Robinson as part of a recent email blast.
The J-Term application will launch on April 23, 2015, and the deadline for submissions is October 7, 2015. For those looking to learn more about the J-Term, CBS will host a virtual information session on April 22, 2015. There will also be an on-campus J-Term information session in July 2015, although an exact date and registration information has not yet been posted.
And for those of you still shooting for an August entry, time still remains to submit your application as part of that program's rolling admissions. The application deadline for the two-year MBA program is April 15th. Good luck!