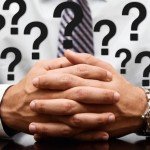 Welcome back to Fridays From the Frontline, our weekly summation of happenings in the business school blogosphere. This week, MBA applicants, current students, and admissions bloggers have made important choices from a variety of different topics in the business school sphere, and life in general.
Naija MBA Gal has made her choice between going to Booth this fall for her MBA and staying at her consulting firm for another two years and getting an executive MBA to move up within the firm. What did she decide? Find out in her latest blog post.
A few weeks ago, My Life of Bliss made the decision to give up the admissions offers she received this year and reapply to top schools next year. She has started a new blog, A Girl's MBA, to document her reapplication journey. She also just found out that she received a promotion–applying again to her dream school instead of taking one of this season's offers is already benefiting her!
Current MBA student Asanas and an MBA has just returned from a trip to Alaska with her boyfriend. She is currently in the process of moving a few states over for her internship. On Duke Fuqua's student blog, James MeGivern describes his experience on Fuqua's "iTrek" to Israel. On Tuck360, Dartmouth's director of Global Insight Expeditions, Lisa Miller, reflects on the 2015 expeditions.
That's all for this week! Join us next week for the latest edition of Fridays From the Frontline.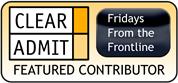 Want to join the Fridays From the Frontline community and see your blog featured regularly in this column? Just follow this link and add the FFF badge to your blog. Then  email us at [email protected] with your URL so we can add you to our weekly roundups.