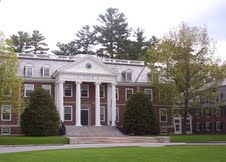 A new executive education program at Dartmouth's Tuck School of Business will provide entrepreneurs from minority and underrepresented communities with tools and training to implement digital technologies to grow their businesses, the school announced last week. The inaugural Digital Excellence Program for Minority Entrepreneurs, developed by Tuck and sponsored by Google, will take place at Google's Cambridge, MA, office June 8th through 10th.
Led by Tuck Strategy Professor Alva Taylor, the three-day program will include sessions covering how to construct a digital strategy, how to market businesses online and how to manage a digital community. It will also feature intensive sessions on analytics and presentations by Google experts on topics including website design, search engine optimization and successful digital business models. 
"Entrepreneurs need to be aware of the wide array of digital business tools and strategies to help grow their businesses," said Taylor, an expert in innovation, technological change, and new product development. "Collaborating with Google on this hands-on program and inviting successful practitioners to show participants how to leverage technology is a great addition to Tuck's portfolio of minority business education programs," he added.
Google will also offer the new program to participants of its recently launched Small Business Supplier Diversity Program. "In addition to connecting more small and diverse businesses to procurement opportunities at Google, we're providing access to web education resources like Tuck's Digital Excellence Program to help these businesses grow online and be successful working with any company," Chris Genteel, Google's Head of Diversity Markets and Supplier Diversity, said in a statement.
In addition to Tuck faculty and Google experts, the program will also feature practitioner coaches sharing best practices and case studies from their own experiences. The program cost is $2,000, and a second iteration is planned for September 2015.
Learn more about Tuck's new Digital Excellence Program for Minority Entrepreneurs.