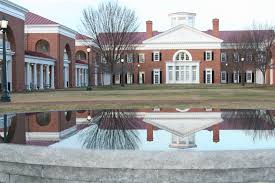 The Darden School of Business at the University of Virginia yesterday announced a range of enhancements to its MBA program, including a new, required experiential learning course and greater opportunities for customization of the MBA program for first-year students.
Beginning this year, all incoming first-year students will be required to take a new course called 'Innovation, Design and Entrepreneurship in Action' or IDEA, according to Mike Lenox,  associate dean for innovation programs and academic director of Darden's Batten Institute for Entrepreneurship and Innovation. As part of IDEA, students will be organized into teams to work on real-world, global field projects over the course of seven weeks. Corporations, government agencies and nonprofit organizations will sponsor these challenges.
The new experiential learning course will be grounded in the approaches of design thinking, agile project management, data analytics, lean start-up and effectuation, a logic of thinking used by expert entrepreneurs to build successful ventures, the school reports. "Students will gain new tools that they will apply to their specific challenges," Lenox said in a statement. "These tools emphasize a problem-solution-experiment cycle that can be rapidly iterated," he continued.
Although Darden regularly enhances its program in small ways based on student feedback and trends in graduation management education, the past year included "more substantial review and innovation," Marc Lipson, associate dean for the MBA program, said in a statement.
New Darden Academy to Provide Greater Customization to First-Year Students
In addition to the new experiential learning course, Darden will also give MBA students greater opportunity in their first year to customize their learning experience. In August, the school will launch the Darden Academy, which will include a changing weekly suite of opportunities integrated into the first-year experience. Topics for the new academy will be drawn from student proposals, as well as from Darden faculty and the school's 10 research Centers of Excellence.
This addition is designed to celebrate the diversity of Darden's MBA class and give students a chance to tailor what they learn to what they are most interested in, according to Peter Rodriguez, senior associate dean for degree programs. "Each student brings a unique background and experience," he says, noting that the Class of 2016 includes students from 36 different countries. "Our goal is to meet each individual student where they are—to help them obtain in their first year at Darden the skills and knowledge they want to deepen, in distinct areas."
Learn more about the latest enhancements to the Darden MBA curriculum.