Georgetown McDonough's Shari Hubert Points to Subtle Changes in New Application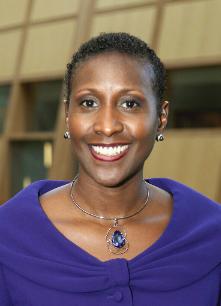 Refreshed following a two-day staff retreat, the head of admissions at Georgetown University's McDonough School of Business took time this morning to share with Clear Admit her advice to prospective candidates on how to approach the school's application for the Class of 2018.
Though its essay question remains unchanged from last year, there are subtle shifts elsewhere in the application, says Shari Hubert, who has served as Georgetown McDonough's associate dean of MBA admissions since 2013. Among other things, applicants will have greater opportunity to highlight experiences living and working abroad. Read on to learn more about these subtle shifts, as well as Hubert's advice on how to make taking a risk in response to the essay pay off.
If It Aint Broke…
Hubert and team decided to maintain last year's open-ended "Why you?" essay prompt because they liked the insights it provided into applicants' backgrounds and motivations. "It worked out really well for us last year—allowing applicants to tell us their story in their own words," Hubert says. "What really stood out were those applicants who were willing to take a risk, be open and vulnerable, and tell us what they think and what is important to them," she says.
Because the application features separate fields where candidates are asked to share their short- and long-term goals, Hubert and her team are looking more in response to the essay for applicants' rationale behind pursuing an MBA, their philosophy on life and how they think McDonough fits within it, she says.
Of course, the line between taking a risk to be open and vulnerable and taking things too far is a fine one. As guidance, Hubert reveals the risk she herself took when applying to Harvard Business School. Asked to write about her greatest accomplishment, Hubert shared that she had re-established relations with her father, from whom she had been estranged for 15 years, when she was a junior in college. "I opened myself up and took a real risk, but I was able to tie it back to my ability to take initiative, to be a leader, to not be afraid to take that risk," she says. "If you are going to make yourself vulnerable and share something truly personal, you need to think about the end goal," she continues. "How can you tie it into the values of our institution and illustrate how it makes you the type of student who would thrive here?"
McDonough's Core Values
And just what are the values that McDonough holds dear, you ask? One of the things that McDonough prizes most as an institution is its global perspective and the global nature of its students, Hubert says. True to its Jesuit founders, the school also seeks students who will be women and men in service to others. "Of course, you come to business school to fulfill your own dreams and aspirations, but we also want students who are asking themselves what they can do to leave the institution better than it was before," she says.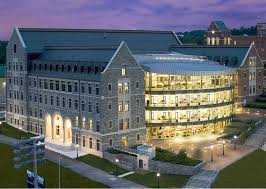 Finally, Georgetown is known for its collaboration, Hubert adds. "Our students are continually thinking not only 'Will this help me succeed?' but also "Will it help my classmates succeed?'" she says. Ultimately, this collaborative nature only reinforces the value of the brand, because if both succeed, it is better for the value of the degree, she notes.
As in past years, McDonough again this year gives applicants the opportunity to submit optional essays to explain gaps in employment, provide information not otherwise included in their application or, for re-applicants, show how they have strengthened their candidacy since their last application. "For us, the optional essay is really key when we might have a concern about an element of a candidate's application—this is an opportunity for them to proactively address that concern," she says.
A Few Subtle Shifts
Even though its essay stayed the same this year, Hubert draws attention to a couple of changes in the application that might be of interest. Last year, the school had a broad question inquiring about applicants' global experiences—whether they had ever volunteered, studied, worked or lived abroad. This year, Hubert's team has broken this question into two parts to get a better sense, specifically, of applicants' global experience when it comes to working, living or traveling for business abroad, since this will have the greatest impact on their experience at McDonough.
Also new this year, the school will now offer an application fee waiver to individuals who are part of the Forté MBALaunch Program.
Application Volume Growth
McDonough's application volume increased this past application season roughly 17 percent over the prior year, with the majority of the increase coming from domestic applicants. "We were very pleased," Hubert says. She attributes the growth to a range of factors, including a greater emphasis on digital marketing and public relations, as well as the school's partnership with customer journey mapping firm Peer Insight, which helped her team think about the application process from the applicants' perspective.
Another shift Hubert saw as part of the most recent application cycle was an increase in the number of applicants laser-focused on scholarship opportunities. "Applicants are looking very closely at how they will fund and finance their MBA, what the ROI is, whether it is worth taking out loans," she says. It used to be that students didn't mind taking out loans for the MBA, but with more and more applicants already having huge student loan debt, that is changing, she says.
"We are getting more requests for scholarships and more appeals for scholarship reconsideration," she says. Hubert has championed flexibility at the school in terms of being willing to accept requests for appeal, formalizing the process through which applicants can ask that their scholarship request be reconsidered.
Fortunately, says Hubert, McDonough has also had an increase in its scholarship funding. "That has been Dean David Thomas's number one priority—to increase funding for MBA scholarships," she says. "That has helped us provide a bit more scholarship to more people who merit it."
Related articles
Need help with your essay?
Call Veritas Prep at +1-310-295-2098 or click to
About the Author