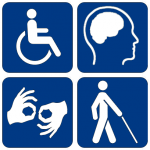 For a long time, testing accommodations were something to be kept secret. Test takers didn't want schools to know they received accommodations. The process to apply for accommodations was not well publicized, and misinformation about the required documentation and when it needed to be submitted was rampant. Today, we'll provide some valuable information for candidates who are thinking about seeking accommodations on test day.
To make the GMAT more accessible to test-takers with disabilities, the Graduate Management Admission Council provides the following accommodations: additional testing time, additional or extended rest breaks, allowance of a medical device in the testing rooms, a trackball mouse, a test reader who can read the questions to the test-taker, a recorder to record test taker responses, enlarged font on the PC monitor, and a sign language interpreter. Test centers in the U.S. are also outfitted with door frames, bathroom stalls, and adjustable desks to accommodate test-takers with special needs.
While most folks would love (and would probably benefit from) extra time on the GMAT, accommodations are limited to those who have a demonstrated need, and are designed to level the playing field by making the test equally accessible to all test-takers. Per the Graduate Management Admission Council ® (GMAC®), under the Americans with Disabilities Act (ADA), a "disability" is a physical or mental impairment that substantially limits your ability to perform one or more major life activities as compared with most people in the general population.
Let's take a look at some of the things you need to know about applying for an accommodation on the GMAT exam:
1. Start Early
Every year, there are candidates who qualify for accommodations, but who don't submit their requests far enough in advance of their test date or fail to submit all of the required documentation. If you're thinking about testing this fall (which is a peak time in the U.S. and many other parts of the world), start the accommodations application process now. Download the Supplement for Test Takers with Disabilities, and make appropriate appointments to get proper documentation together. Know that, it takes 3 – 4 weeks to receive a decision. If that decision isn't what you were hoping for, you can file an appeal, but the 3-4 week window starts all over again. It's also important to note that you're not able to schedule your GMAT appointment until after you receive your accommodations decision, so the earlier you start the process, the more likely you'll be to score that preferred GMAT testing appointment.
2. Know that Available Accommodations Can Vary
If you're testing outside the United States, keep in mind that GMAT test centers are required to comply with local disability laws. If you're testing in the United States, that's the Americans with Disabilities Act (ADA). However, in many countries, local disability laws may be less comprehensive than those in the U.S., or nonexistent altogether.   Even within a given country, the accessibility features may vary. For example, all U.S. test centers are ADA compliant for basic things such as wheelchair access. But, not all centers have a private room for a reader or may only have one workstation with an adjustable desk. If someone else who is receiving the same accommodation as you has already booked that station, you may run into trouble scheduling. You should also keep in mind that test centers are sometimes operated independently from the buildings they inhabit. For example, there was a test center in Europe that was touted for its excellent compliance with U.S. ADA standards, with wheel-chair accessible doorways, bathrooms, and desks. However, the building itself had several steep concrete stairs leading to the one single entrance… and no ramp for a wheelchair to use to access the inside of the building. This underscores the importance of researching your test center before scheduling your appointment.
3. Practice Is Still Important!
Once you receive an accommodation, be it a reader or extended time, don't forget you need to simulate testing conditions during your preparation. GMAC® has made improvements to its accommodations-friendly test prep materials over the years. In addition to 50% and 100% additional time versions of GMATPrepTM, the Official Guide for GMAT Review series is now available as a series of talking books. Make sure you're practicing and pacing yourself with the appropriate amount of time, or if you're using JAWS software for the Analytical Writing Assessment, do so during your practice tests.
So, as you're settling into summer and starting to hit the GMAT prep books, if you're thinking of applying for accommodations, take advantage of a study break and make sure you're staying on top of this equally important application process. Remember, schools don't see whether you received accommodations (including extra time) on your GMAT exam, so if you do qualify for an accommodation, make sure you're doing everything you can to achieve success on test day.
The above article comes from Veritas Prep. Since its founding in 2002, Veritas Prep has helped more than 100,000 students prepare for the GMAT and offers the most highly rated GMAT Prep course in the industry.
Special Offer: enroll in a Veritas GMAT prep course through Clear Admit and save $100!