We had the distinct pleasure of speaking recently with Bob Bruner, who for the past 10 years has served as dean of the Darden School of Business at the University of Virginia. He will step down at the end of this month, when Scott Beardsley becomes the ninth dean of the school.
In the wide-ranging interview that follows, Dean Bruner reflects on his time at Darden, the strengths his successor will bring in his role as Darden's dean, the state of graduate management education and why he is optimistic about Darden's future.
As always, he was thoughtful and engaging, with valuable insights for anyone considering business school, whether at Darden or elsewhere. We are so grateful to him for making the time to speak with us.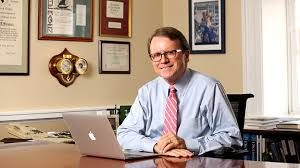 Clear Admit: What are you most proud of in your time as Darden's dean?
Bob Bruner: The school has accomplished many great things in a short space of time, but I am most proud of Darden's ability to attract stronger and stronger entering classes of students. I believe the ability of schools to recruit up is a prime measure of their vitality. Our full-time residential MBA program has shown wonderful advancement in its caliber of students and boasts wonderful diversity in terms of industry, gender, citizenship, race, ethnicity, you name it.
Our students all possess very strong and rising academic potential, as well as strong leadership skills and communication skills. And what we are hearing from recruiters is the rising attraction of our students—which is evident in our placement results over time.
I believe that Darden's ability to continue to recruit up is the start of a virtuous cycle. Attracting stronger and stronger students makes it easier to attract stronger faculty, both of which lead to program innovation and a strengthening of program quality, which in turn leads to rising recognition for the school and the ability to engage a broader set of external stakeholders. This then leads to fundraising capability.
I do see in the industry the possibility of a downward spiral as well, a pernicious self-reinforcing cycle. The virtuous cycle I mentioned before can move in the opposite direction. Sadly, I see in our field business schools that are struggling with the ability to attract strong students and faculty or implement program innovation. There are some very good schools whose missions are quite worthy, and yet they are finding it difficult to recruit up.
Darden, though, is in the first group. In great part this is because of our culture. We have an extremely strong teaching culture, which has led to favorable word on the street about the school.  The school has been acknowledged by external sources and rankings and publications such as yours as being a place with very strong values toward the student.
A characteristic of the millennial generation is that they focus quite intentionally on value received for value given, and I think these students are paying quite keen attention to the value they will gain.
Darden is part of the experience economy, which is different from the commodity economy. The experience economy attracts people—consumers—who are interested not just in getting a thing but also in the experience that thing offers. Take buying a notebook computer, for example. You can buy hardware at bottom dollar at the bare bones functionality that you need and not pay very much money. Indeed, the price of computers is continuing to plummet. Or, you can focus on a computer as an experience—and this is where Steve Jobs at Apple was genius. An Apple goes on in brilliant colors and talks to you and prompts you intuitively to do what you need to do to boot up. That creates an experience of awe. Harley Davidson, Disney—these are also companies that have mastered the experience economy.
And so it is in the world of management education. There are providers who give you the bare bones at very inexpensive rates—and then there is a very small set of the total market that is the antithesis, that is oriented toward providing a total experience intended to be transformational. Darden is one of the leaders in the transformational experience segment of the field.
MBA students are very, very careful shoppers. I respect them totally. They figure it out, they are able to distinguish Darden from schools x, y and z. They will decide whether Darden is their cup of tea or whether they want something more bare bones and undifferentiated. But there is a segment of the market that is intensely, passionately oriented toward wanting a transformational experience.
We get between eight and nine applicants per seat at Darden, and that's because we are able to construct an entering class and deliver an experience that students rave about. That has helped us to continue to recruit up and produced a self-reinforcing, virtuous cycle.
CA: What have you left undone in your time as Darden's dean?
BB: Let me just say that I am totally humbled by the experience of being a dean. There is more unfinished business, and I will be the very first to admit it. It goes to the very dynamic nature of management education. There continue to be major opportunities for Darden in the areas of digital learning and field-based education (getting students out of the classroom and into the field working with practicing executives). There are also still major opportunities in the field of globalization, particularly in getting American students out of the United States. There is also more to be done in terms of serving different demographic subsets of the field (pre-career, mid-career, advanced-career stages). I could go on and on.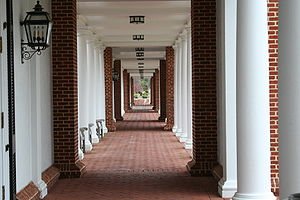 I often hear critics of management education saying this is a moribund field—a field that hasn't changed, that suffers from terrible inertia, that is a dinosaur on its way out. I will just look those people straight in the eye and tell them they are flat wrong.
What I see is a group of players in the field who are investing very heavily in new curriculum, new talent, new experiences. What is not publicly known are the failures and experiences that bombed and didn't work. But we should be trying lots of little bets. We need to be experimenting widely, aggressively, broadly—experimenting in little ways because that is what business does.
If we aren't failing in some regularly routine way, we aren't trying hard enough. I think my colleagues see this. There is this other notion that academics don't experiment enough, and that is just flat wrong as well. I think [experimentation] is the ticket for management education going forward.
One of my favorite books right now is called Little Bets by Peter Sims. I have given copies of it far and wide to my colleagues and some of my alums. In it he describes this philosophy of investing in little ways to discover things that warrant more investigation. I have regular conversations with deans at peer schools, and they are doing much the same. It helps to hear what they are doing. There is an effervescence of innovation taking place, which ultimately makes me very optimistic about the future of the field. I think 10 years from now management education could well be very different from what it is today—of course, it will create some winners and some losers.
CA: How confident are you in your successor, Scott Beardsley? What advice have you offered him?
BB: He is a living breathing embodiment of the book Little Bets. Scott Beardsley is a 26-year veteran of McKinsey, and he has been the leader of internal education for McKinsey. In fact, he may very well have had something to do with the ideas embedded in the book.
My advice to him has been heavily oriented toward making the leap from business into academia—on listening well and adapting to what might seem to outsiders to be an unusual environment. To outsiders, higher education can seem overly collegial and very slow moving, when in fact a lot of change is taking place but is not evident to the naked eye.
Scott Beardsley's great strength is in asking questions. He has impressed me greatly in his ability—through a dialectical process—to sort out in his own mind what needs to happen but to lead others to it in a Socratic fashion. I am optimistic about his ability to make the leap into academia, but it is a stretch for anyone moving into the dean's role.
CA: What will you miss the most about being Darden's dean?
BB: I love developing people and helping to give them assignments and provide resources in ways that allow them do their best work. It is intensely fulfilling to see a high-potential colleague absolutely blossom in his or her professional capabilities. Shedding my responsibility as dean means shedding that opportunity somewhat, but I will continue to do that as a professor among colleagues and I will certainly mentor junior colleagues.
I have been thrilled at the range of relationships one develops as dean—relationships with students, alumni, donors, corporations. Some have been transformational for me personally and also very fulfilling. And they have had lovely results, such as completing a major capital campaign and helping to direct the school in new ways.
CA: What will you miss the least?
BB: Travel. The middle seat of airlines. (Yes, I still fly economy.) Staying in hotels and the like. I have averaged 140 days per year out of town in my 10 years as dean, and I intend to cut way, way, way back on that.
I look forward to doing things that I have missed. I love to teach, I love to write—I averaged authoring or co-authoring a book a year in the years before I became dean, and I look forward to returning to that. And I very much look forward to helping students in a classroom setting again.
CA: What will you do during your year away—before you return to Darden to teach?
BB: I will spend a month in Europe traveling with my wife. I owe her considerable catch-up time. After that I will divide the year between Harvard Business School (HBS) and another school on the West Coast, though the exact mix of that time remains to be finely tuned. I might spend most of the year at HBS.
The purpose of going away is that it helps the new dean get traction and it helps the outbound dean reboot in terms of teaching and writing. I will spend the year developing concepts for new courses, developing some book outlines, probably even writing chapters of one or two books. In essence, I will be restarting my intellectual life as a professor.
During that year I am not going to teach, consult or give speeches—I have turned down lots and lots of invitations for those things. Instead I will dive deeply back into my intellectual life. But at the conclusion of the year, I very much look forward to returning to Darden.
CA: What do you see as your successor's greatest strengths?
BB: There is one dimension in which he really resonates with me. I will miss the ability to help develop people, and he is passionate about developing people, both students and his colleagues. I think that bodes very favorably for the future of the school. He is passionate, too, about the role of education in society and the transformational impact it can have.
He is also just a very warm individual, easy to meet, to get to know, very American. He plays guitar in a garage rock-and-roll band, he is a very, very highly ranked tennis player, he is keenly interested in the student experience straightforwardly, and I think these will all prove to be particular strengths to him as he comes into our community.
The real core that I am talking about here is I think he's got our values. Within the Darden program, one of the key ideas we teach is that high performance is really driven by values, not by dollars. We are heavily a values- and mission-driven community, and so is Scott. So I feel very good about his stepping into this role.
CA: What has been the greatest transformation in graduate management education over the past 10 years?
BB: I'd say it's a toss-up between globalization and digital learning. Both of those were highly accelerated by the global financial crisis. Nobody anticipated the global financial crisis. But it accelerated a set of trends in the field that are most visible in terms of cross-border mobility of students and schools' use of digital learning. The Association to Advance Collegiate Schools of Business (AACSB) led a report on the globalization of management education—it was really a wake-up call to business schools and their deans saying, "Look this is not a fad. This is a long-term secular trend toward increased mobility of students, faculty and programs across borders—and it is going to demand adaptation among leading programs."
The global financial crisis also forced business schools to reexamine their use of digital technology as a way to reach a broader public. In June 2012, the Darden School signed an agreement with Coursera to offer MOOCs (massive open online courses), and the University of Virginia followed very quickly. To date, Darden has enrolled more than half a million students in Coursera, and UVA, another half million.
Those numbers dwarf the total number of graduates of Darden or UVA. Now, cynics always point to the fact that not all students complete MOOCs, but even if you only look at the completion rates, the numbers continue to dwarf the number of students on campus.
If we are in the business of transforming society by developing responsible leaders and by doing research, the digital medium opens up vast possibilities. We have taken those experiments, grown those that were successful and offered a broader range of courses. We are doing more in our executive education programs, and we will do more in our two-year residential MBA program. Some people do say, "But Darden is one of the leaders in face-to-face classroom teaching—why are we going digital?"
To them I say it is not either or, it is both and. The technology very probably will help us deliver ideas and knowledge in ways that frees up time for us to do more things that are deeply in service to our students.
Going forward, we need to ask very tough-minded questions about what technology will do. Back in 2005, I couldn't have guessed that globalization and technology would prove to be so disruptive. Those two forces will continue to be enormously disruptive in the 10 years to come.
There is one other phenomenon that I see playing a very serious role in the time to come. I have written about in it my blog as the "winners-take-all" phenomenon in higher education. Basically, it says that rewards accrue asymmetrically to players in a field of competition such that the players who establish a track record of high performance tend to capture a disproportionate share of the benefits of that performance.
Michael Jordan stands out as one of history's greats in basketball—and his financial rewards and brand value are way out of proportion to the fact that he was a member of a team that was very successful. And that team was one of a professional league of basketball players. And the benefits accrued to professional teams are themselves way out of proportion to sports teams in general.
In this blog of mine I deliver a number of graphs and tables that show that gains accrue disproportionately to high performing schools. If this continues for the next 10 years, we will see a widening gap between the haves and have nots—much like the highly discussed income inequality gap.
Now, as dean of a school that seems to be on the winning side of the entire field, you wouldn't think that I would be the one to wring my hands and warn everyone about it. But I care very much about the success of higher education worldwide, and I think there is going to be a shakeout at the end of all of this that will impact business schools at the lower and middle ends of the field.
I see this as problematic because one size does not fit all. We have benefited from providing a wide variety of different offerings. Today, a student who wants an MBA at the lowest prices can find one, as can a student who wants a part-time program, an executive MBA. Variety is what makes a market. Our very broad and highly segmented market has been a good thing for students.
To the extent that there is a shakeout at the middle and low end of the field, we will lose diversity. The total volume of MBA applicants has plateaued and is declining. To our great fortune in America this has been offset by applicants from outside the United States. But I think the demographic trend among developed economies is not buoyant for the field in general, and the winners and losers will be even more starkly defined in the future. Again, Darden has been fortunate to recruit up. But if the application trends in America continue as they are, the future will be more and more painful for the have nots in the field. I would be sorry to see that happen.
CA: As you prepare to step down as Darden's dean, what do you find to be most top of mind?
BB: My own transition has prompted students to come and congratulate me on my retirement. But I am quick to point out that I am not retiring—that I will be coming back to Darden. Maybe we can call it "recycling," I've offered. "No! That makes you sound like a plastic bottle," students have said. "Repurposed?" I suggest. "That makes you sound like an old piece of machinery," they reply. "You are being reinvented."
I find all of this humorous, and I take it all in good spirit. But top of mind for me right now is the fact that all of us in academia and really everyone needs to think about what are the opportunities and challenges embedded in this incredible demographic transition about to take place? Baby boomers are moving out of management. It will take many years for that to become manifest. But what people need to be thinking about—what I find myself thinking about most—is how to harness the accumulated experience of that generation, all the while continuing to invent something new.
I look at my colleagues who are of a similar age to me, and they intend to contribute very actively in whatever role they are in. I think I like the "reinvention" word best. I think there is a lovely opportunity in this generational transformation that is about to take place. I don't have any answers for what lies ahead, but my successor will have to deal with that and I look forward to helping.