Making up between seven and nine percent of the MBA class each year, military veterans are a significant part of the University of Virginia Darden School of Business fabric. "Veterans enrich our learning community," wrote Darden Professor and Dean Emeritus Bob Bruner in a Veteran's Day blog post a few years back. "We actively seek excellent students from the ranks of the military." That's because like other leading business schools, Darden recognizes that many skills honed in the military—such as leadership, discipline, teamwork and decision-making—transfer seamlessly to the MBA classroom.
But why stop at the MBA classroom? As part of a pilot program launched last semester, Darden faculty, alumni and second-year MBA students have partnered with a veteran-focused business accelerator to offer entrepreneurship training to veteran-led companies in and around Washington, DC.


Led by Darden Professor Greg Fairchild, a rotating group of alumni and students started teaching entrepreneurship courses at Bunker Labs DC in August. Seven veteran-led businesses graduated from the program in December, and a new cohort will start in February.
As the child of a career army artillery office, Fairchild has first-hand insight into both the challenges veterans can face and the unique strengths they can bring to bear as entrepreneurs. "I knew that, basically, things were challenging for veterans, more than most people recognize," Fairchild said in an article on the Darden website. "On the other hand, I knew that it was a population that includes people who move people and machinery and have led, and so you can see the ways that people who are veterans make a lot of sense as business people, and more specifically as entrepreneurs."
Fairchild, who also teaches entrepreneurship courses with Darden students to inmates in area prisons, is always looking for ways to broaden the Darden circle. "This is what we're about in terms of bringing high-quality education to people who are really at a life inflection point," he said as part of the article.
Darden Network Helps Launch Capitol Post
Bunker Labs is housed at Capitol Post, an organization designed to unite the DC veteran business community. Capitol Post Director Emily McMahan, a 2010 graduate of Darden's executive MBA program, was approached by fellow EMBA classmate Stephanie Landrum, president and CEO of the Alexandria Economic Development Partnership, to launch the organization. "When I met Emily, she had already made her transition from military service to entrepreneurship—and as CFO, I saw how she used the Darden curriculum to help grow the company," Landrum said in the Darden website article. "With her background as a veteran, an entrepreneur and a Darden grad, I knew she was the perfect person to help design, build and launch the program."
According to Landrum, Capitol Post evaluated a number of programs as potential partners for running the entrepreneurship courses before choosing Darden. "We were very excited to find a way to include Darden and work with the faculty and students to customize some of the best parts of our Darden experience to now share with the veteran business owners we are working with," Landrum said.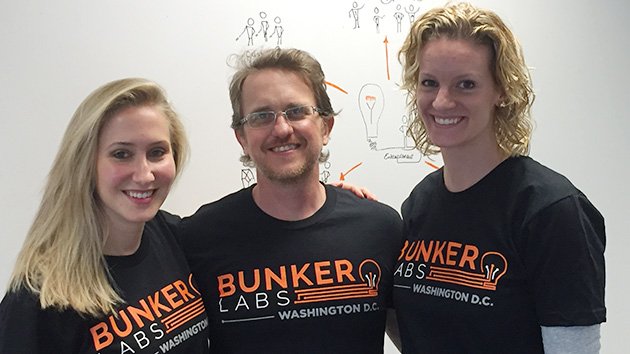 McMahan stressed to the seven companies in the initial cohort that it was a pilot program. "We have a product and an offering, and we told them we would be tweaking it," she said as part of the Darden website article. "For our next class in February, we are really excited for the programming and line-up of companies we've attracted."
According to McMahan, Bunker Labs is seeking startups led by veterans or veteran spouses that have an innovative concept and address a clear market need. The hope is that with the accelerator's support, they will grow into sustainable, scalable businesses. While intended as a resource for the veteran community and active-duty military, the next cohort will also include a few civilian-led startups.
Among those companies in the first cohort were one startup designed to help military families find places to live and another that helped train schools to prepare for and handle threatening situations.
Applying the Case Method to Real Life Businesses
Using the case method Darden is known for, the student instructors teach the participating entrepreneurs business concepts and theory, which they can then immediately put into action in their businesses. "It's amazing to be able to bring Darden to a program where the rubber meets the road," said McMahan. "They're really applying what they learn from these cases in the now."
Fairchild agrees. "These people are really dealing with real things," he said. "We've worked closely with Emily on figuring out how to get the right mix of theory and case and workshop, but I think we have a great partner who's open to learning how to do that best."
Second-year MBA student Bryan Yoon, one of the current teachers in the program, is also a veteran himself, having spent eight years as an intelligence officer in the U.S. Army before coming to Darden. A member of the Darden Military Association, he appreciates the opportunity to remain connected and give back to fellow veterans. "There's a particular set of experiences and a vernacular that accompany those experiences that only the people in that room are going to be able to understand, and there's a unique opportunity to connect that to businesses," he said in the Darden piece.
Fairchild hopes the program will only continue to grow, aided by the large veteran population in Washington, which provides a rich talent pool.
Read the complete Darden article, "UVA Darden Network Expands with Veteran Entrepreneur Program."