Though best known for producing a steady stream of crackerjack consultants and marketing mavens, Northwestern's Kellogg School of Management is also making inroads when it comes to educating entrepreneurs. Through the Kellogg Innovation & Entrepreneurship Initiative (KIEI), the school is pioneering a lean methodology approach to launching new ventures that is steeped in experiential learning.
To complement its "new venture creation" track, coursework that takes students through the full life cycle of new ventures from ideation to launch, Kellogg also features a special program offering support to MBA students who are trying to get ventures off the ground by graduation. Called the Zell Fellows Program, it is open to students who are either founding a startup or looking to grow an early-stage venture. In December, nine students were selected as the newest cohort of Zell Fellows, with ventures ranging from a service that takes the stress out of packing lunch by delivering customized, allergy-friendly meals directly to families' homes to a platform that creates interactive guides that hotels can give their guests at check in.
According to David Schonthal '09, program director and clinical assistant professor of innovation and entrepreneurship at Kellogg, more than 100 students expressed interest in the program this year and roughly 60 submitted applications to be considered for participation. The cohort size remains small, though, because that's part of the program's unique, intrinsic value.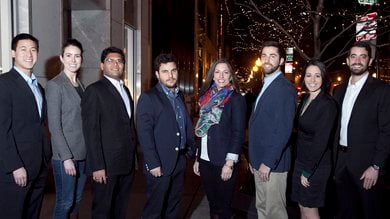 "The fact that they go through this program together as a nine-person cohort is super powerful," Schonthal says. "They develop strong relationships with each other, enhance and support one another—they really become an advisory group for themselves almost like a Young Presidents' Organization," he says, referring to the global peer network of CEOs and business leaders. The support continues well after graduation, he adds.
Of course, the financial support Zell Fellows receive is another main benefit of the program. "It provides a lot of resources that are often hard to get as you're just starting a business," Schonthal says. With approximately $30,000 in funding per student, the program helps pay for business services ranging from graphic designers and coders to prototype shops and legal assistance. "We believe their first job is to be a good student, so if we can provide services to help them advance their businesses while still focusing on being students first, that's great," he says.
And then there's exposure to entrepreneurship beyond Kellogg. In addition to treks to the San Francisco Bay area, students go on a trek every year to Israel where they spend time with the program's benefactor, Equity Group Investments Chairman Sam Zell. "We want them to get a sense that as Zell Fellows they are part of a global network of entrepreneurs," Schonthal says.
New this year is an executive coaching component, pairing Zell Fellows with seasoned entrepreneurs who serve as mentors and advisory board members and provide coaching tailored to individual entrepreneurs' needs. "We offer lots of different resources to support each of them on their path," he says.
Now it its third year, the Zell Fellows Program counts 28 fellows, 19 of whom are running or have founded businesses. Collectively, they have raised more than $5 million in funding, and 17 of the student-founded ventures are still active.