In our continuing series of interviews with career services directors at leading business schools, we connected earlier this month with Cynthia Saunders-Cheathem, who heads the Career Management Center (CMC) at Cornell's Johnson Graduate School of Business. Saunders-Cheathem joined the CMC eight years ago and was promoted to executive director in 2014. Before Johnson, she worked in corporate marketing for 15 years at a range of companies including Hanes Underwear, Valvoline and United Technology.
Saunders-Cheatham was generous with her time and went into great detail regarding Johnson's career management offerings, trends in hiring and student career goals and how incoming students can prepare for the job search even before arriving on campus. She also shared some of the things she is most focused on as head of the CMC, including ensuring that there are ample opportunities for Johnson's international students.
If Johnson is among your list of target schools, don't miss this chance to learn more about the career management offerings MBA students at the school benefit from straight from the source.

Clear Admit: How do you view your role as executive director of the Career Management Center at Johnson? Is it to administer workshops? Counsel students? Counsel companies? Manage the entire office and oversee its various functions? All of the above? What do you love most about it?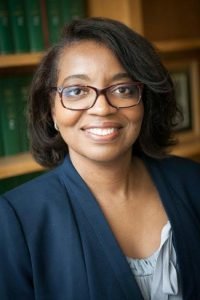 Cynthia Saunders-Cheatham: All of the above. I really view my job as managing the team so we can provide the best career search possible for our students and make it as easy as possible for our recruiters to connect to our students. I have been in this role for two years and at the Career Management Center at Johnson for eight.
One of the big things I have done since becoming executive director has been to execute an organizational change, including hiring a number of new career advisors. There has been a lot of change, but it's brought a lot of new ideas and a lot of great energy.
CA: Now, about your team. How many career advisors do you have? Is this a relatively constant figure? If not, how has it changed in recent years? How might it change in the near future?

CSC: I have about 17 on my team total, which includes seven career advisors. I also have executive MBA and alumni career management under my umbrella, although those are managed by a separate director.
One of the things I looked at with our org change was whether to have some team members work exclusively with students and others exclusively with recruiters. In the end, our advisors have a dual role. This means that they work directly with the students—having one-on-one meetings, providing programming through the center and going on treks—but they also have a corporate outreach component to their jobs that makes up roughly 20 to 30 percent of the role.
I know a lot of schools split those roles, but we decided to keep them together. I find it can be really valuable for advisors working with students to be able to say, "I met with this company last month, this is what they are looking for in new hires, this is what their headquarters are like…" I think it helps us provide a more holistic offering to our students. Most of our advisors do come from the corporate world and they advise in the area where they have experience, so they are definitely able to talk the talk with companies.
CA: Can you provide prospective applicants with an overview of the recruitment process at Johnson? When does it start? How does it unfold? How has this changed in recent years, if at all?

CSC: It has changed a lot. Recruiters want to get access as soon as possible. I know some schools try to stop that and put barriers around it, but we don't. We want companies to allow students enough time to make the decision about whether or not to take the position, but we are not opposed to early offers. We are part of the Consortium and Forté, both of which hold conferences in June. A number of students will have internship offers before they start classes in August through Consortium. We do a lot of work with those students starting in April, reviewing resumés, working on pitches, helping them talk the language of a marketer or a banker.
Consortium's Orientation Program (OP) just took place a couple of weeks ago, and students are receiving internship offers from that experience. There are also a lot of other brand and summer camps in investment banking and consulting and marketing that take place over the summer, and we do prep with students who plan to apply with those companies.
In terms of the advantages of coming into the MBA program with an internship offer in hand, I think it gives students a chance to focus more on school work and club activities. They have a little bit less recruiting pressure. Even if students decide not to take the internships offer—and many of them decide not to—they are much more comfortable with the recruiting process. They know how to network, they have good resumés and they are comfortable with the interview process. They have a leg up in prep versus their peers. But very often we see that these students will help their peers through their process as part of regular recruiting. Because they have already interviewed with these companies, they can help fellow students do interview prep and connect with companies.

CA: How does your team counsel students regarding the interview? Is there a formal mock interview process? How are interview schedules administered? Is there an established policy regarding how closed and open interviews should be conducted? What facilities are available for interviews?
CSC: We are trying a new process this year in terms of interview prep. In the past we had a company come in and do small group mock interviews, videotape them and provide feedback to students. Though we're still working out the exact details, the process this year is likely to be a week of mock interviews conducted by alumni, second-year students, CMC advisors and consultants.
One really nice thing at Johnson is our career work groups. As part of these groups, seven first-year students work with two second-year students weekly during the fall semester. A lot of the career prep is done as part of those work groups, which are aligned by industry and function. Students work on networking, resumés, mock interviews and pitch. There is also programming through the CMC as well. That program was pioneered 15 years ago and has endured, and it consistently gets the highest ratings from our students.
Our culture is very collaborative because we are a relatively small school and located not close to a major city. It really is a community—the first-years, second-years, faculty and staff. The second-years enjoy helping the first-years and feel that is part of the community, and the first-years really appreciate the help they get from the second-years. The second-year students have interviewed with these companies, and some are going back to these companies, so they know the process and are willing to help the first-years prep.
Our advisors also do mock interviews, and there is a lot that happens around interviewing within the student clubs. Sometimes they'll bring in corporate partners or alumni to do mock interviews, especially for marketing and consulting. So there really are lots of ways that we give our students opportunities to prepare for interviews.
I think Johnson's location really helps with the community aspect of our students' experience. Students also really benefit from the connection to greater Cornell, including the engineering school, the hotel school and the schools of human ecology and industrial labor relations. There are all these other places at Cornell where our students frequently take classes. I think Johnson's location really helps to encourage that interaction. Even though Ithaca is not as easy to get to as New York City, the alumni do love coming back and the recruiters don't mind because there is a great talent pool here.
CA: What kind of role do alumni play in Johnson's recruiting process? How integral are they to your office's success? Is alumni participation a major part of your placement platform?
CSC: One of the things that I noted when I first started at Johnson—and I came from a corporate marketing role—was just how accessible our alumni are here at Johnson. It was nothing for me to email someone or pick up the phone and have people respond quickly. I hear that from our students, too—that our alumni are quite responsive. I know that all the schools, we all say that our alumni are engaged in mock interviews and recruiting and the like. But I do think Johnson is really special terms of its loyal, engaged alumni.
CA: Do you have any advice for prospective applicants in terms of what they might do in advance of the MBA program to be better prepared for the job search process? In your experience, do you find that students who have done x, y or z before arriving on campus have a more successful experience with career services and the job search as a whole?

CSC: One of the most useful things students can do is to really narrow down their career aspirations before they get here. The students who are most successful in the job search process are those who know what they want to do and have done the prep before arriving to school. The students that are trying to make a significant change or who haven't thought through what they want before they get here do tend to struggle more. So my advice is to really narrow down what your career goals are.
If you are thinking you want to make a change, it's also a good time get exposure to your potential career path. Say you are in corporate finance and want to switch to a marketing role—see if you can get involved in marketing projects at work. This allows you to add more to your resumé and also gives you something to talk about in interviews. So I urge students to use that time to see if they can pivot into some of those projects.
Our students, once they activate their Cornell emails, are able to access the full Vault guides, which provide guides for any career function or industry that you might be interested in. Beyond that, I urge them to talk to contacts, have coffee with people, go to lunch with people—undergrad contacts, friends and family, really any people who are doing the work that they may be interested in. Shadow people if that's a possibility. Try to learn as much as you can and talk to people to learn more. Read industry blogs or magazines or websites about the industry you are targeting. We have a number of things we recommend to students based on their interest. There are the general business publications, of course, but there are also specific publications if you are targeting tech, brand management, consulting.
We also give our students a resumé template before they come in and we email them a copy of the Getting Down to Business workbook. We encourage students to go ahead and drat their resumé in the Johnson format and come ready with that to review with their career advisor when they arrive on campus. Before they meet with us, we want them to have their resumé and their Career Leader report done. Career Leader is an online assessment that looks at your strengths, motivators and key skills and helps students come up with MBA-type careers that might be a good match. Many schools use it, and I think it can be particularly helpful for students who are unsure of their future career paths. It's not the end all be all, but it is a useful tool.
CA: What about students who hope to pursue entrepreneurial paths straight out of school? What particular opportunities/challenges do they present for your team? Are there special resources in place through CMC, or do those students primarily draw support from the Entrepreneurship and Innovation Institute?
CSC: When I first started at the Career Management Center back in '08, little attention was placed on entrepreneurship because that wasn't seen as the function of the office in general. Today we have an advisor for technology who also has entrepreneurship under her umbrella. So that has changed significantly. The exact programming we are putting behind it is still to be determined, but we do have a basic curriculum in place and we also help connect students to Entrepreneurship@Cornell, which is a university-wide opportunity to tap into the entrepreneurial community.
We do find that the number of students who come in and plan to start a business right after school is larger the number who leave planning to start a business right away. Often they decide to put off entrepreneurial ventures until later in their careers. It is a small group, but there is growing interest in entrepreneurship, and we are putting more resources behind what support we can provide to make sure we guide them through the process.
CA: There's been a huge shift toward greater hiring by tech firms in recent years. How has this impacted your overall career services offerings? Are there specific programs, interview prep, etc. for students targeting tech jobs?

CSC: One of the things I did on my team when I took over two years ago was to hire someone who focuses on students pursuing jobs in technology. We really did not have one person devoted to tech before. She comes from the tech industry and has a passion for technology. She worked at Google right before coming here, so she has experience that is really valued and she understands what tech companies, and Google in particular, go for and what kind of students they hire.
I also brought on a part-time contractor based in the Bay area. She is a very skilled recruiter who works for a startup now and has worked with many of the tech companies in the region. She is very knowledgeable about recruiting in tech. Especially seeing the growth in interest in tech among our students, we recognized that we needed to have someone on the ground in the Bay area.
Also, from a curriculum perspective, we have started an immersion focused on digital technology. It has a pretty heavy analytics focus and pairs students from the MBA program with students from the engineering programs. Some classes are taught by engineering professors. There's also a practicum project associated with the immersion that really helps students get a handle of what it would be like to work in tech. The first year has gone very well, and students have gotten a range of jobs from large and small tech firms in a variety of roles, including analytics and project management.  CA: Same question with regard to students who are interested in social impact careers? Is this growing? How are you responding from a career services perspective?
CSC: We have for many years had decent interest in social impact thanks to our Center for Sustainable Global Enterprise. We were one of the first schools to have such a center, and that has always helped us draw students to Johnson interested in the field.
We also have an immersion in sustainable global enterprise. I should perhaps explain what our immersions are. In the second semester of the first year, Johnson students can take an immersion, which is designed to prepare them for their internships. The immersions include a practicum project that they work on as a team directly with a company. So having the Center for Sustainable Global Enterprise and having that immersion really helps us attract students with an interest in social impact. One of my career advisors also works just with students targeting sustainability careers. That is another area that we have added specific career advisor support for in the last two years.
CA:  What other interesting trends or shifts have you been observing—both in terms of companies who are hiring more or less and student aspirations?
CSC: We have certainly been seeing a shift in terms of greater interest in tech, which I suspect is going to be consistent across the board with other schools. We still have strong recruiting in finance, particularly investment banking, and in consulting. I know some schools have seen banking soften a bit, but we did not experience that at Johnson. Both paths have continued to be strong and perhaps have even grown in recent years.
Of course, we value all of our companies, and we have more companies recruiting our students than in years past. I would say eight years back there were 80 companies that recruited our students, and now it's more like 120 to 130. Students are coming in with interests that don't necessarily fall into the typical MBA career path, which is great and adds a lot of nice variety. Social media also has helped with that, in particular LinkedIn. Today students can apply for different roles that don't recruit on campus and connect easily with in those companies because of LinkedIn. That has broadened the number of companies who recruit our students.
Our largest recruiter by far is a tech company—Amazon—but the banking and consulting firms are strong, and there are also some consumer packaged goods (CPG) companies that are strong hirers of Johnson students.
CA: What do you lose sleep over with regard to the Johnson Career Management Center and what it offers?
CSC: I think a lot about our international students. I want to make sure that students who come to Johnson and are looking for jobs either here in the United States or in other places are receiving the support they need. We have done a lot to enhance our work with international students. We work closely with the international student clubs and are doing a lot of corporate outreach in the U.S. and globally to help our international students in the job search process. We offer a lot of programming around visa and immigration policy here in the U.S.
I have placed added focus on career services for our internationals students in the last two years. Our international student population is 35 to 38 percent, which has grown in recent years, and it is harder for them to find positions in the U.S. because of visa restrictions. We have also enhanced our English language support, and we have a formal program around U.S. customs and the way that things are done here. In addition, we provide one-on-one or small group work with consultants and others who can help international students with language and provide writing assistance for resumés and cover letters.
I should also mention the newly created Cornell College of Business. Announced in January and slated to launch in July, it will bring together Johnson with the School of Hotel Administration and the Dyson School, which is Cornell's undergraduate business program. There are a lot of committees now that have formed consisting of faculty, staff, students and alumni to dig deep and understand how this transition will happen.
I think it will be terrific and will make our business school much larger, which in turn will make it easier to attract faculty and give us a larger budget to play with. From a career management perspective, the career management directors from all three schools are meeting periodically to talk about what the structure might look like as the three schools come together. We do want to make sure that the quality of support that students across all three schools receive is enhanced. They will certainly have access to more courses across the three schools, but we also want to make it easier for recruiters to recruit across all three schools. I think it is absolutely the right direction for Cornell.
CA: Is there anything else you'd like to add?
CSC: I don't think I mentioned the treks, which is another way we work with our student clubs. The treks are a great way for students to connect with companies. Student clubs organize the treks, but we help them to find contacts at the various companies, and we also attend many of the treks. Some of the notable ones are the tech trek to the Bay area and Seattle, the marketing trek to New York and New Jersey, a media trek to Los Angeles, a finance trek to Hong Kong and China and a Wall Street trek for the students interested in banking. There are many others, but those are some of the big ones.
Also, last year we launched an Executive Presence Day. Research has shown that people who get hired and move up tend to have really strong executive presence. By executive presence I mean projected gravitas, being confident, being decisive, communicating well, having a good emotional quotient (EQ) and being able to read people well.
So last year we launched an EP Day, bringing in speakers to discuss what EP is and featuring workshops on everything from communication to dress. It went over really well. The feedback we got back from recruiters in terms of our students' readiness was really good this year, which I think can be attributed partially to EP Day. We will do it again in the fall, and we will do it bigger and better. Based on feedback and research, executive presence is really important for students to develop and we wanted to get that front and center in our process.