"What a breath of fresh air," Sue Oldham wrote in an email after we spoke recently. "It's evident that you love your job." Indeed, I do love the parts of my job that involve great conversations like the one Oldham and I shared. Read on, and it'll be just like you were there listening in.
Oldham went to Rice for undergrad, where she majored in English, before spending a couple of years working in marketing. Business school beckoned the St. Louis, Missouri native and off she went to Vanderbilt's Owen Graduate School of Management to get her MBA. A jet-setting IT consulting career followed, one that involved stints in Los Angeles, Charlotte, Dallas, Richmond and Houston and exposed her to industries ranging from healthcare to CPG to transportation to insurance. After 10 years of that, she went in-house at Enron and expanded her breadth of knowledge to the energy industry.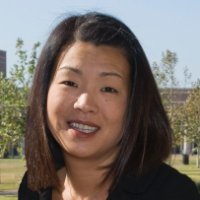 Next, she became a mom and stayed at home with her kids for close to seven years. "I was extremely fortunate to be able to do that," she says. "But then suddenly you realize your kids are in school fulltime and ask, 'What am I going to do now?'" Consulting, with its travel 48 weeks out of the year, did not call her back. But Rice did, the Jones Graduate School of Business at Rice (Rice Business), to be more precise. The school's assistant dean brought her on just as the first class of the Part-Time MBA for Professionals program was graduating. "Come do something with it," he said. Between her own MBA and her extensive corporate experience, he knew her story would really resonate with prospective students.
Seven years later, she's still there, only now she's executive director of recruiting and admissions for all of the school's programs. Hear Oldham talk about what she loves about the school and working with prospective applicants, as well as her tips for navigating the application process, be it at Rice Business or—gasp!—elsewhere. (She makes a compelling case for Rice Business…!)
Clear Admit: What's the single most exciting development, change or event happening at Rice Business this coming year?
Sue Oldham: First and foremost, we have a new dean—after 11 years with Dean Bill Glick leading the helm. Dean Glick has been fantastic, truly an amazing dean. What he has done with the school in 11 years is unheard of. There is no other school in history or the rankings that has moved as quickly or as far forward. Dean Glick focused on quality—expanding scholarship budget, launching the PhD, MBA for Professionals and Master of Accounting programs—which all contributed to the meteoric rise in the Financial Times' MBA ranking over his 11 years.
And then, on July 1st, the biggest news for Rice Business is the arrival of our new dean, Dean Peter Rodriguez. He comes to us from UVA's Darden School and he is even more fantastic and amazing. I can't even say enough good things. And I have already had the pleasure of working with him—we have had many interactions already.
I have also seen him at work in front of our incoming class, and he is just effortless. At Darden he was chief diversity officer as well, so he brings that double hat. He said to the incoming class, "You all chose Rice because you really wanted to be here—you are just starting the program. Well, I am kind of like you." I love that he just laid it out there like that.
CA: What is the one area of your program that you wish applicants knew more about?
SO: Can I tell you two? The first thing is that I think Rice has this stereotype—because it's in Houston— that all of our incoming students are from and in the energy industry.
In fact, I think many would be really surprised at the diversity of the class. And by that I mean across all the metrics. We have a fantastic percentage of women, of under-represented minorities, we have great representation of people from outside of Texas and outside the United States. But what is even more interesting is that for a small program—we have just 110 students—those students come from 58 different companies, 77 different undergraduate institutions, 17 different majors and 17 different industries.
So you see, it totally goes against the stereotype people have. But when people actually come to campus, the reaction is, "Wow! There are so many different people here and different kinds of people." Even for someone like me, there is someone else who looks like me.
The second thing is we are always so focused on the MBA program, but we actually have fantastic dual-degree and coordinated degree programs as well. We call the larger university "Big Rice," and Big Rice is clearly known for engineering. We have a dual-degree program with the engineering school that recently grew 233 percent because we started to do a better job of marketing it. We also have an MBA/MD program, with participating students getting their MD at Baylor. We also have an MBA/MS program, which allows students to get their master of science in a whole litany of subcategories.
Often we'll find someone focusing on an engineering master's program and we can say to him or her, "You are going down that very specific path—why don't you broaden?" Pair it with an MBA and your possibilities expand tremendously. I bet you a lot of people didn't know we offer so many dual-degree options.