Almost half (49 percent) of graduate business programs saw an uptick in application volume in 2016, according to the 17th annual Applications Trends Survey, released today by the Graduate Management Admission Council (GMAC). The gains, though, were chiefly among European programs, full-time one-year MBA, executive MBA and online MBA programs. Full-time two-year programs, along with part-time and flexible MBA programs, in fact, reported declines compared with 2015.
GMAC President and CEO Sangeet Chowfla put a positive spin on the news, underscoring that business degrees continue to be among the most desirable educational credentials. "With the creation of more tailored business programs such as the Master in Data Analytics, the demand for entrance into business school is spreading across a growing supply of programs," he said in a statement. "With the competitive landscape changing, applicants have more options from which to choose, creating a mixed picture for business schools today."
High-Quality Candidates a Constant
A constant across all programs is the high quality of candidates, the survey found. With results based on responses from 335 business schools worldwide—which received a combined total of 440,000 applications during the 2016 application cycle—a whopping 93 percent of all participating programs report that the applicants this year are similarly or more academically qualified than candidates last year.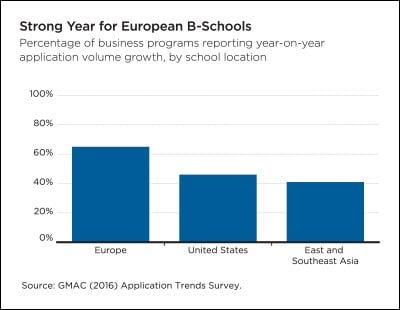 Europe was the big winner in the quest for business school applicants in 2016, with 65 percent of European programs citing increases in application volume, this after several years of little to no growth. In the United States, 46 percent of programs were up this year, and 41 percent of programs in East and Southeast Asia experienced growth.
Demand for full-time one-year programs was greatest, especially in Europe where these programs have long been de rigueur. Fifty-seven percent of all full-time one-year programs were up this year, compared to 51 percent last year. The gains were most concentrated in Europe, where three in four programs (74 percent) saw application volume rise year over year. In the United States and East and Southeast Asia, closer to half of the programs saw application volume growth (43 and 45 percent respectively).
Master in Data Analytics, Online MBA Programs Growing Rapidly
Demand for specialized master's programs in finance and data analytics is also on the upswing. For the second year running, a majority of Master of Finance programs reported application volume growth. Newest on the scene, but rapidly growing, are Master in Data Analytics programs. Of the 16 programs that submitted data this year and last, 94 percent were up. Another nine new programs will welcome their first classes this year.
Online programs are also gaining momentum. A majority (57 percent) of online MBA programs report application volume increases, up from half last year. The survey also revealed that 9 percent of online programs are new in 2017.
Executive MBA (EMBA) programs also fared well in 2016, with more than half (51 percent) reporting growing volumes—the first time since 2008 that a majority of programs have seen growth.
Full-Time Two-Year MBA Program Growth Flagging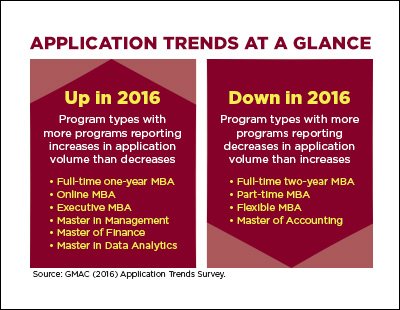 Amid all this growth, some program types are flagging, according to the latest GMAC survey. This year marks the first since 2012 when fewer than half of full-time two-year MBA programs (43 percent) report being up year over year. This is down from a high in 2014, when 61 percent of two-year programs experienced growth.
Growth in applications to part-time and flexible MBA programs remains relatively flat, meanwhile, as it has since the end of the Great Recession. This year, 43 percent of part-time MBA programs and 44 percent of flexible MBA programs saw application volume rise.
Especially amid slower overall application volume growth, it is perhaps not surprising that full-time two-year MBA programs continue to diversify their outreach and recruitment efforts. Seven in ten of these programs recruit international applicants, especially those from China, India and the United States.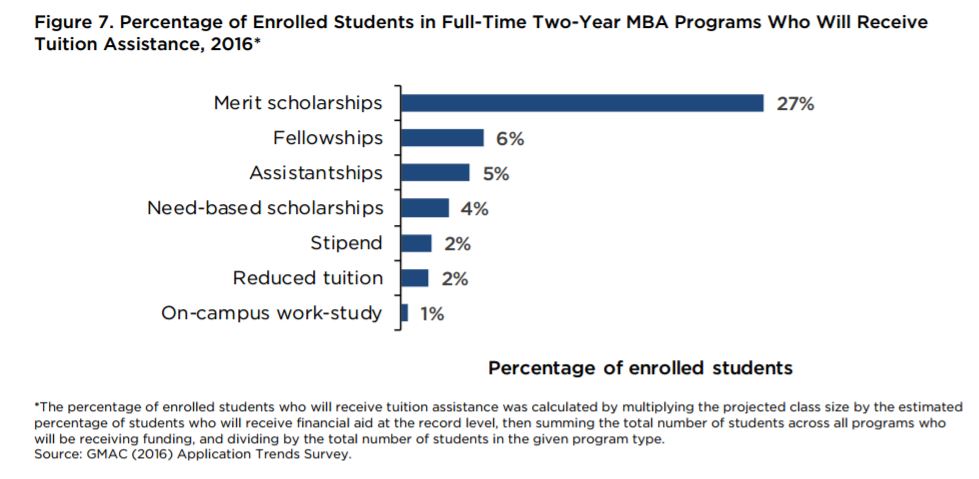 Financial aid is also prevalent—with 78 percent of full-time MBA programs offering some form of aid. Notably, the most common form of tuition assistance for two-year full-time MBA programs is merit scholarships. Employer-based tuition reimbursement held steady from 2015, with 68 percent of programs reporting that the percentage of students whose employers will foot part of the bill is similar to last year.
To view the full report, click here.