For most, the images of a lion, dragon, bee and tiger probably aren't the first thing that come to mind when thinking of the Wharton School of the University of Pennsylvania. But for first-year MBA students arriving on campus, they quickly become central.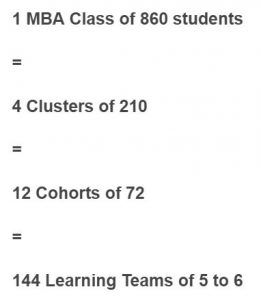 The incoming MBA class at Wharton is comprised of 860 students, divided into four 210-student clusters. The names of the clusters? You guessed it. Lion, dragon, bee and tiger. The clusters are further divided into 12 cohorts of 72 students and then further again into 144 "learning teams" made up of five or six students.
True to form, Wharton has used data-based decisions to help make each cluster as diverse as the overall class, distributing students with differing skill sets, leadership styles and backgrounds among the groups. Historically, it's been a top-down process, with clusters created first, followed by cohorts and then learning teams. But for the first time this year, Wharton took a different approach, deciding to build diversity from the bottom up.
"If you diversify the learning teams enough, then you'll end up with diverse cohorts and clusters," Jess Segal, director of strategic initiatives for the McNulty Leadership Program at Wharton, said as part of a recent post on the school's MBA admissions blog. The school's MBA Program Office assembles the learning teams using data self-reported by students as part of the admissions process, including gender and ethnicity (if reported), country of citizenship, global region, industry and proposed major. Setting the learning teams at between five and six students is designed to let each individual member shine and grow together on a more personable level over the course of the first year.
"If there were no system in place to create a community in smaller subsets, you could easily feel lost," Segal continued. "The cluster and cohort system was designed with the hope that it takes a group of 860 and allows it to feel like a smaller community." First-year students receive their group designation from the MBA Student Life program at Wharton, several weeks before the initial pre-term.
"Our cluster is our Wharton family," said Student Life Associate Director Larry Rappoport, who leads the "bee" cluster. "With each class, I look forward to seeing the new touches they will add to our cluster community and culture in their two years here."
Since the current cluster program began in 2012—launched as part of the MBA curriculum redesign—Wharton first-year MBA students have also gotten to participate in the annual Cluster Olympics. While there's no fencing, wrestling or gymnastics (kickball, cornhole, and chess are among the contests involved), students in the four clusters proudly represent their groups, wearing personalized shirts, crafting chants and even painting their faces in 100-plus degree heat.
"Huddling up to plan our Tug of War strategy to win the Olympics, screaming after every classmate's or football touchdown or getting kicked in the face by a soccer ball—these are small but meaningful moments," explained Allie Miller, WG'17. "And while these moments may not immediately sound like 'business' or 'school,' they're important for building teamwork and community."