Round 1 applicants to the University of Michigan's Ross School of Business may very soon know whether or not they snagged an interview, according to a post this morning on Soojin Kwon's Admissions Director Blog. "The target interview invitation date is Tuesday, October 25th," read the post.
Kwon noted that her team is spending more time than ever before reviewing applications in Round 1, the result of a third consecutive year of rising application volume. Round 1 apps were up 13 percent this year, she reports, even on top of upticks in both 2014 and 2015. The most notable changes in the pool this year include a significant increase in applications from women as well as more applicants from both the United States and abroad, Kwon added.
What's Driving Ross's Popularity?
In reflecting on last year's increase, Kwon credited, in part, some new recruiting strategies the school has implemented, including broadcasting Ross student stories more broadly via more channels and calling on the business school alumni community to share its own experiences with prospective applicants.
But there's also just a real buzz around Ross right now thanks to a string of notable developments. Last spring, the school named D. Scott DeRue as its new dean, earlier this month two Ross alumni were appointed to lead Wells Fargo and repair the embattled bank's reputation and last week saw the much anticipated grand opening of a new 104,000-square-foot academic facility, Jeff T. Blau Hall. The school is also in the midst of celebrating the 25th anniversary of its signature experiential learning program, Multidisciplinary Action Projects (MAP), through which more than 10,000 students have completed more than 2,000 projects in 92 countries around the world.
Interview Invites Increase to Keep Pace with Rising Application Volume
Last year, Kwon shared that her team invited more Round 1 applicants to interview to keep pace with continuing year-over-year increases in application volume—marking the second consecutive year of increased interview invites. "The pool was strong, so we wanted a chance to meet more candidates and evaluate their experience and fit in person," she wrote in an October 2015 blog post. In an email this morning, Kwon confirmed that the number of interview invitations going out this year will likewise be up over last year.
"At this stage, we try to cast the net as wide as we can while being realistic about admissibility and interview capacity, and striving to achieve a diverse interview pool," Kwon wrote in today's blog post. "Lots of variables to consider even at this early stage!"
Continuing a tradition of transparency and communication that has become something of a signature for Kwon, she also took the opportunity to answer some questions anxious applicants may have at this stage in the game. While stressing that applicants can choose to interview on campus, locally with an alumnus or via Skype—and that interviews will carry the same weight no matter where they are conducted—Kwon did encourage on-campus interviews if at all possible. "It'll be the only opportunity in Round 1 to do the Team Exercise, which gives us a data point on your ability to work on teams," she wrote.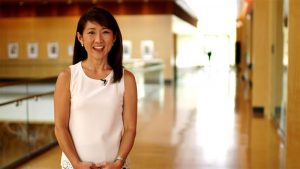 If you don't receive an invitation to interview, it means that your application will be reviewed further to determine whether you'll get a spot on the waitlist or be denied at this stage, she continued. Candidates are most often placed on the waitlist either because a) their entrance exam scores and/or GPA weren't as competitive as others in the pool or b) their professional achievements weren't as strong.
"The thing to keep in mind is that your app is being compared to others in the pool," she wrote. "We're not just looking for admissibility. We could fill the class several times over with applicants who are admissible. We're looking to create the strongest class possible across every dimension."
If you're not invited to interview, there's not a lot you can do at this stage other than to submit new GMAT or GRE scores. "If you think it is your GMAT/GRE score that's holding you back, consider retaking it (if you haven't already)," Kwon recommended.
For more details on when on-campus interviews will take place—as well as Kwon's tips for how best to prepare—be sure to read her original post.
One other piece of news out of Ross is that the school is looking to add another international student loan program—in addition to the Prodigy no-cosigner loan it already offers—for students starting in fall 2017. "We hope to have an agreement in place by the end of December," Kwon wrote.
ICYMI: Be sure to check out our Real Humans of MBA Admissions interview with Kwon. And if you're among the applicants who receive an interview invitation today, don't forget to pick up your copy of the Clear Admit Ross Interview Guide.