Mohsin Alvi came to business school thinking he wanted to go into consulting, went through the recruiting process, secured an internship at Deloitte and converted his internship into a full-time offer.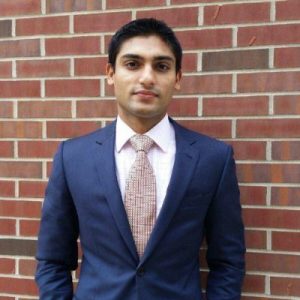 Along the way, he got an unsolicited email from Google about a project process manager role. "On the back end, they have a resumé book of a bunch of business schools, and they email students whose experiences they believe might align with what they thought the role would entail," he explains.
That led to a call with HR, which led to an onsite interview. Four interviews later involving six to eight different people, Alvi got an offer from Google. "Fortunately, it came before I had to respond back to Deloitte," he says with a laugh.
Deloitte was disappointed that he turned them down—even still encouraging him to come to their scout weekend. "They had me seated with one of the more senior partners, who definitely gave me the soft sell," he says. "They really did make a good effort and it wasn't the easiest choice, but in the end it was the right one for me."
For Alvi, Google offered an opportunity to explore and still be a generalist. "They have hired me as a generalist in business operations—even now I don't know my defined role, but I will get to choose between eight available options before I start," he says.
Even though he relied on the Career Management Group to prepare for the recruiting process for consulting, the help he received ultimately aided in his interview process with Google, he says.
"The people in the Career Management Center really challenge you to think about what you want and why you want it—and they encourage you to have meaningful work and follow your calling," he says.
Before business school, Alvi taught middle school in Baltimore as part of Teach for America and then worked in operations consulting. Throughout the interview process with Google, they were testing him on how he could leverage both his teaching skills and his operations process thinking. "I actually talked more about my teaching than anything else in my Google interviews," he says. "Google looks for 'Googliness'—that you are passionate about something beyond the average person—and it doesn't matter what it is," he says. "I talked a lot about my students—it was really, really cool how naturally that came out."
He does wonder whether maybe he should have skipped the consulting route and considered tech from the beginning. "But the reason I was so successful in Google interviewing was because I had done consulting and case prep," he says.
Though Alvi didn't ultimately need to rely on the Haas alumni network much in his job search, he does love it when his path crosses with another Haasie. "We take our defining principles really  seriously," he says. "They can seem like taglines when you're looking from the outside in, but we genuinely believe in them, especially 'confidence without attitude,'" he says. "When you meet another Haasie, it just feels like family." Two of his interviewers at Google were Haas alumni, he adds.
"It is really important to me to be at a company that at least exhibits Haas principles," he says. "The top ten Google ideas and the concept of Googliness are very much aligned with the four defining principles of Haas."