Following up on our recent Real Humans of MBA Admissions piece with Christie St-John of Vanderbilt University's Owen Graduate School of Management, we are delighted this week to feature a more in-depth interview with her about the admissions process she oversees. St-John describes her career as "zig-zaggy," referring to the fact that she started at Vanderbilt back in 1997 before zigging to Dartmouth's Tuck School of Business in New Hampshire for nine years and then zagging back to Owen, where she's been at the helm since 2012. (As she shares below, she is not actually following Owen Dean M. Eric Johnson, even though he's also zigged and zagged from Hanover to Nashville.)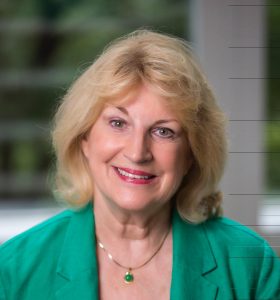 In the interview that follows, St-John shares enthusiastically about the vibrant entrepreneurial scene at Vanderbilt and in Nashville more broadly, some of the newest centers to open on campus and a few things about Owen that not all applicants might know—including that anyone who visits campus can interview. She also provides a detailed explanation of the admissions process and how it unfolds, as well as tips on approaching the essay portion of the application in particular. Not to miss if Vanderbilt's Owen School is on your target list.
Clear Admit: What's the single most exciting development, change or event happening at Vanderbilt's Owen School this coming year?
Christie St-John: There are so many things going on, but I think what stands out for me is our wonderful Dean Eric Johnson, whom I knew at Dartmouth and whom I knew even before that at Vanderbilt. We're not actually following each other! He has wonderful ideas and vision, but the best thing about him is that he really listens to people. "Why do you want to do this? Would it be a good thing? Can we do this together? Can we do it now?" He's very thoughtful about ideas people have. He helped open the Turner Family Center for Social Ventures, which is kind of an umbrella center uniting a lot of initiatives that were going on before. Its focus is to find business solutions to social problem through work with local and national nonprofits as well as on international projects with NGOs. It has grown from just an Owen center to one that expands across the Vanderbilt campus.
The center ties into another thing that Chancellor Nicholas Zeppos has been promoting, namely more interdisciplinary interaction bringing together all of the different schools—law, divinity, education, nursing, engineering, law, medicine. The graduate students from each of these schools have access to the Turner Center and can participate in the different projects. It's really breathed a lot of new life into programs that existed before but now are getting more publicity. It's also directed by one of our Owen alums, Mario Avila.
The second thing that is exciting is the new Innovation Pavilion. It is primarily a thought center for people coming up with new ideas. They had their grand opening a couple of weeks ago, and I was privileged to get to go and visit. It features a space called the Wond'ry—a combination of wonder and foundry—where people are actively working on ideas. If you have a project that requires a model of something—the Innovation Pavilion has hammers, screws, tape, glue, seven or eight 3-D printers—everything you need to construct your model. The center also features local offices for executives in residence, from both startups and established firms. Owen professors are definitely involved in it, but it is also interdisciplinary center.
Nashville is also becoming known as the second Silicon Valley. The Nashville Entrepreneur Center has been going like gangbusters. There are biotech, energy, beauty, medical device startups—you name it. Our students get to be involved in that, and even if they don't plan on being entrepreneurs themselves they can go down and talk with those working there. They have mentoring groups, as well as an advisory program where students can pitch their ideas to the entrepreneurs and get very honest feedback. Our students are very fortunate to have all this at their fingertips.
Nashville is just such a changed place from the city I left in 2002. There are so many new people moving in—an average of 87 per day—and it's totally changed the feel of the city. It's much more cosmopolitan, and it's a young city. It has everything that New York has except for the terrible traffic and crime. There are art centers, local comedy, fabulous sports, ballet, 20 colleges—from tiny, tiny religious school to large universities like Vanderbilt, and fabulous restaurants. We even top Houston in that regard now.
CA: What is the one area of your program that you wish applicants knew more about?
CS-J: Here again I'd like to share a couple of things. The first is the entrepreneurial focus we have now. We have received two very large gifts from alumni which help to furnish grants for students who have a great idea, pitch it and win a business competition. Those grants are each $25,000, and we award up to four every year. There was also a $1.5 million donation to keep funding the entrepreneurial ventures. People think entrepreneurship is all Silicon Valley or Austin, but Nashville is right up there, too.
We also have a great organization performance concentration. Students can go into that and are learn about not only human relations (HR) policy and benefits but also how to best structure an organization so things run better, how to get the right people in and the wrong people out. We are one of the few business schools that have that specialty, and it is certainly more strategic than it ever used to be. I know when I say HR many people think of the little blue-haired lady who works in the basement, but this is not that. It is very strategic.
Our Leadership Development Program (LDP) funnels into that as well. In fact, I just got back from doing a series of women's leadership conferences with Carnegie Mellon, MIT, Emory, and Georgetown. They drew together faculty members from the different business schools to present ways of enhancing leadership—from building your own brand to negotiating. We are very cognizant of the fact that at the age students come into our program they very likely may not have had a chance to develop many leadership skills. Our leadership program is designed to help them get to know themselves and their leadership strengths. It extends through the entire two years of our MBA program, so it's not just a class. It's pretty heavy duty.
I went through parts of it myself, and it was really a revelation. There were aspects where I said, "Yes, that's me absolutely." And then there were other aspects that were really surprising to learn about myself. I had no idea. It really helps students open up to who they are and what they want to do without surrendering to the force of the crowd or to peer pressure. Students always tell us in the admissions essays that they know exactly what they want to do when they get here, but they really don't. This program helps them identify it.