Bosses who are older or more experienced aren't necessarily better, according to Sydney Finkelstein, author, management professor and faculty director at the Tuck School of Business at Dartmouth. And he should know. His latest book, Superbosses: How Exceptional Leaders Master the Flow of Talent, takes a painstakingly deep look into the the characteristics of exceptional leaders, and he shared some of his key findings in a recent interview with Clear Admit.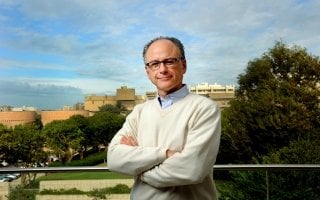 "I feel like the single most important thing is the mindset," he says, casting off the idea that any specific degree of experience matters more. "You can start your career, even as a student, with this mindset. Sometimes helping other people is the best way you can help yourself. You have to be willing to make the effort."

As an example of someone willing to make that extra effort, Finkelstein points to revered NFL Hall of Fame coach Bill Walsh, whose San Francisco 49ers teams in the 1980s revolutionized the game, earning three Super Bowl titles between 1982 and 1989. Frequently emphasizing Walsh's exceptional mindset in the book, Finkelstein highlights how he would help his staff get jobs outside of the 49ers organization.
"Walsh would call the owner of another team when an assistant coach was looking for a different position," Finkelstein says, noting that "bad" bosses seldom do this. Looking at the extensive coaching tree of personnel who learned from Walsh, it's hard to miss how massive that extra effort was.
"Bad" bosses, Filkenstein says, "consistently claim credit from the team, don't try to make people better and don't create opportunities for other people."

"Part of it is false belief that so many people have that you own people that work for you," he continues. "Not every manager thinks that way, but many do. If you do something they don't appreciate, it's a very serious crime. It's a sense of ownership. And it actually hurts you."
Another stark difference between good and bad bosses is that the good ones will also let others take the spotlight.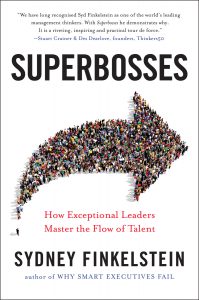 "Superbosses have very big egos," Finkelstein says. "But at the same time they would step aside and make room for other people. Often when we think of strong personalities they often value the world's best talent around them and let them have center stage."
While promoting his newest book–which has snagged spots on "best of" lists from Amazon to Inc., Forbes to the Washington Post—he found that younger audiences actually gravitated to his discoveries more than he expected.
"As I think about different audiences I've spoken to, I'd say younger groups resonate with these ideas," he recalls. "They (millennials) want it more, they want to have an impact, make a bigger difference. This is something that's shared with superbosses. Opportunity matters. This is in contrast to 'paying your dues,' opposite to the world that exists today. If you're ready for a new assignment after six months, they'll help you get it."
"Being a great leader is not only about maximizing shareholders," Finkelstein stresses. "There's a view of what makes a great leader that is wider than ever before, and this is essential to younger people."
Click here for more on Finkelstein's latest book, Superbosses: How Exceptional Leaders Master the Flow of Talent.