Next month, the British Council—the United Kingdom's international organization for cultural relations and educational opportunities—has planned a U.S. roadshow to help promote graduate management education in the United Kingdom in general while also raising the profile of 14 U.K. business schools.
Part of the British Council's many responsibilities is to support U.K. universities in their international activities, including international student recruitment, says British Council Acting Education Officer Jenna Hartsell. "Looking at data of American students going to the United Kingdom to study has revealed year-over-year growth in pursuing graduate degrees," she says. "According to the HESA Student Record 2014/15, 18 percent of U.S. master's students in the U.K. are in business and administration studies," she adds.
Additionally, the most recent Prospective Students Survey Report from the Graduate Management Admission Council (GMAC) reveals that 17 percent of prospective full-time MBA candidates and 15 percent of specialized business master's candidates in the United States indicated that they would prefer to study internationally.
These statistics—coupled with demand from the U.K. universities themselves—provided the British Council with the motivation it needed to plan this inaugural road show. American candidates are particularly attractive to U.K. business schools because they already speak English and are a natural fit in the academic culture while still offering the schools ways of diversifying their overall student body, Hartsell says.
February Events Planned for Washington and New York
For prospective U.S. MBA applicants who've ever wondered what it might be like to pursue your MBA overseas—now's your chance to learn more.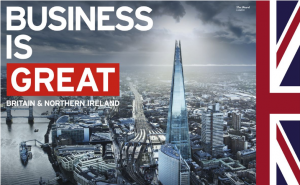 The British Council will be hosting a range of events in February in both Washington, DC, and New York City, drawing together representatives from the 14 U.K. business schools to meet directly with prospective applicants and answer their questions about U.K.‒based management education opportunities open to Americans.
Included in the roadshow will be business school fairs and networking events for prospective applicants held at the British Embassy in DC and the British Consulate in New York—venues many attendees will never before have had a chance to experience.
U.S. alumni of the various U.K. schools are also expected to attend and share their first-person experiences of pursuing their graduate management education at a U.K. school. The 14 participating schools include De Montfort University, Edinburgh Napier University, University of Exeter Business School, Imperial College London Business School, Leeds Beckett University, Alliance Manchester Business School, Newcastle University Business School, University of Northampton, University of Salford, University of Winchester, University of Wolverhampton, and University of Worcester.
The first school fair and networking event will take place in Washington on Monday, February 6th, from 6 to 8:30 p.m. It will be held at the British Embassy, located at 3100 Massachusetts Ave NW. Interested attendees are encouraged to register using the following link: https://www.eventbrite.com/e/education-uk-business-school-fair-networking-reception-washington-dc-tickets-31418590851
The second school fair and networking event will take place in New York on Wednesday, February 8th, from 6 to 8:30 p.m. It will be held at the British Consulate General New York, located at 845 3rd Avenue on the 9th floor. Interested attendees are encouraged to register for this event using the following link: https://www.eventbrite.com/e/education-uk-business-school-fair-networking-reception-new-york-city-tickets-31421316002
There is no deadline to sign up for either event.

In addition to these events for prospective applicants, the British Council will also host an array of education briefings for U.S. counselors, advisors and faculty interested in learning more about potential opportunities for their students.
Considered a pilot, the British Council hopes this first-of-its-kind roadshow will prove a success, in which case expansion to additional cities could be considered in future years.